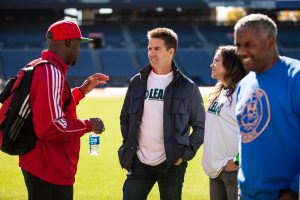 Here are a few questions for you? Do millions of parents in America work tirelessly to help their sons become the best baseball players they can be? Do they need courage and transparency to support the information they crave on how to help their sons become the best?
I have a proven development methodology that has helped hundreds of hitters become high school and college All-Americans, first rounders and Major Leaguers. Not all of them were no-doubters. The methodology only works when parents are supportive, have courage and are transparent.
Check out a recent conversation I recently had with Tim and Joelle Fox about a problem their son, Riley, 13, was having:
Explain what the problem(s) you were trying to solve?
We could see frustration in Riley about his swing and batting performance in recent games/practices. He felt he knew what he was doing wrong, but he was frustrated because he couldn't correct it consistently. We reached out to C.J. for advice and help as a mentor for Riley. From a real world perspective, we knew these same situations would arise in life in different areas, so learning how to deal with adversity and mental toughness would prepare him for future years.
What was the solution?
C.J. met with him and also talked to us personally. His solution was to point out to us and to him that the expectations, and even the methods we were trying were not helping. Specifically, just taking Riley to lessons and practices with his coaches and giving him extra instruction with a trainer really wasn't the solution. It may help to get instruction, but you also need to develop your dedication to execution. C.J. asked Riley how much he was doing his "homework" on a daily basis. He asked if it was reasonable to expect to harvest results at games and practices if he was not planting seeds at home by practicing on his own.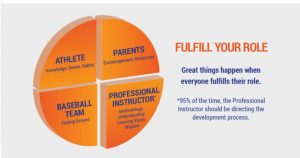 Did you agree or disagree with the solution?
At first, it was not the solution that we expected, but it's the one we deeply respected. We understand a little more every time we work with C.J. It helps to have a different perspective. When you ask C.J. for help, be ready for straight-talk observations. Be ready to really think and reflect on what you believe to be true, and be ready to challenge your conventional thinking. Personally, this is why I continue to have C.J. in our lives. The solution required us to change our thinking and methods of what we "thought" we were doing to help. He put the responsibility back on Riley to put in the extra homework at home, alone, using his own initiative. He had him create a plan with accountability and expectations. So Riley created his own plan. It is as follows:
Standard: We must practice in order to be prepared for games.
Expectation: I should practice four days per week.
Accountability: If I don't practice four days per week, I shouldn't expect to perform in the games. And I shouldn't expect my parents to engage in conversation with me about why I'm not performing in games.
The Prescription
What's the most difficult part of raising a son who plays competitive baseball?
Trying to balance giving him the tools and opportunities to become as "competitive as he wants," and making sure that it actually is his desires, not ours. It's helping him to understand that in order to become great at something you have to put a lot of time and commitment beyond coaching. We have to balance getting him to work hard, because we know ultimately it will help him meet his goals. We have to make him understand it is his responsibility to do this on his own, without too much prompting. As a parent, you want to help your child succeed, but you know it's more helpful to give him the independence to succeed, and even fail. By the way, this applies not only to our son and baseball, but to raising both of our children with academics, athletics and personal integrity.
What do you feel that parents "must" do to allow their sons to develop their full potential as baseball players?
We need to put the responsibility on them to come up with their own goals and plans on how to achieve their goals. We need to allow them to fail. We can encourage them by asking them if they are following their plan and do not meet their goals. But then they need to adjust the plan. If they are not following their plan, then we can point out that out as the reason why they are not achieving their goals.
What do you feel parents "must not" do in order to allow their sons to develop their full potential as baseball players?
We should encourage them, but not do the work for them. We should not force them to practice, but give them the resources they need. The desire must come internally, but I do believe they have to learn that in order to achieve goals. They need a good plan and accountability, and then they must execute the plan on their own or live with the outcome. In other words, we need to teach them that they need discipline, but that it is up to them to execute and set their own expectations.
Explain why you feel your son can achieve his goal of competing as a D-I student-athlete (baseball)?
Our son is an extremely hard worker and is motivated to succeed. He knows that working hard in math and school allows him to achieve his academic goals. I believe he will apply this work ethic to baseball as well. He respects his coaches, and I believe that with his talent, combined with a consistent work ethic, will allow him to achieve his goals.
Riley's short-term goal is to become a D-I baseball player. Does appears he has a good team of support?
Remember: Intelligence trumps being smart.
For more information, visit www.diamonddirectors.com today. Also, check out our Digital Magazine.
BIO
C.J. Stewart has built a reputation as one of the leading professional hitting instructors in the country. He is a former professional baseball player in the Chicago Cubs organization and has also served as an area scout for the Cincinnati Reds. As founder and CEO of Diamond Directors Player Development, CJ has more than 12 years of player development experience and has built an impressive list of clients, including some of the top young prospects in baseball today. If your desire is to change your game for the better, C.J. Stewart has a proven system of development and track record of success that can work for you.