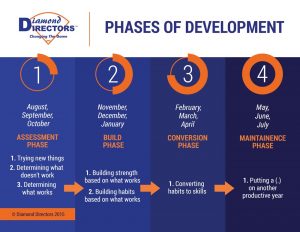 College Football Hall of Fame  coach and motivational speaker Lou Holtz once said, "Virtually nothing is impossible in this world if you just put your mind to it and maintain a positive attitude." Coach Holtz preached a good sermon right there, and it's something I would like to unpack for you.
For my Diamond Directors clients, May through July is the time to maintain. Our development cycle begins in August with the Assessment Phase, where we set crazy goals and commit to trying new things to discover what works and what doesn't.
It doesn't make senses to try and accomplish a goal that is impossible. Batting .700 in a top tier league league with at least 100 at-bats is impossible to do. But it's the kind of crazy goal we would set in the fall.
November through January is the Build Phase, where my clients build habits based on what we discovered will work for their swing in the fall. They are expected to execute a minimum of 21,000 reps during this phase to build habits. You must be committed and discipline in order to execute 21,000 reps within a three-month period.
Commitment is making a promise to yourself and keeping it.
Discipline is doing the things that you need to do even when you don't want to do them.
This is what Coach Holtz means when he says "put your mind to it."
February through April is the Conversion Phase, where habits become skills by doing things that are hard. This is where we transfer from practice to training.
"Training is practicing under pressure." — C.J. Stewart
You are reading this blog in May—the month where you have earned the right to maintain if you have been intentional with your development like my hitters, who started way back in August.
Maintaining doesn't mean to stop working or coast. This is not the time to overhaul your swing (if you 0 for your last 15 at-bats). It means to keep going. Do a new thing with your swing in the fall.
This month, Travel Baseball teams are getting ready to matchup against the top teams in the country. High school state champions will be crowned. College baseball is in the final weeks of the regular season to determine who will be No. 1. And MLB hitters, after an entire round of Spring Training, are ready for a 162-game season. Big leaguers can't afford to "find their swing" during the season.
Here's how you can eat, drink and sleep baseball in May.
Remember: Intelligence tops being smart.
For more information, visit www.diamonddirectors.com today. Also, check out our Digital Magazine.
---
C.J. Stewart has built a reputation as one of the leading professional hitting instructors in the country. He is a former professional baseball player in the Chicago Cubs organization and has also served as an area scout for the Cincinnati Reds. As founder and CEO of Diamond Directors Player Development, C.J. has more than 12 years of player development experience and has built an impressive list of clients, including some of the top young prospects in baseball today. If your desire is to change your game for the better, C.J. Stewart has a proven system of development and track record of success that can work for you.