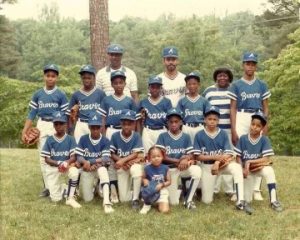 One of my favorite quotes is from Maya Angelou, who said, "We may encounter many defeats but we must not be defeated."
There are five weeks in March, so here are your weekly marching orders if you want to be successful on and off the baseball field.
Be agile
Be loyal
Be respectful
This week's focus is being agile. Being agile is being able to move quickly and easily. Consider your most recent night and/or daydream. As a child, I dreamed of playing professional baseball with the Chicago Cubs.
In 1984, I was eight years old. The Cubs won the National League East Division. I watched a lot of their games that summer while living in Atlanta. I would watch the game and then go outside to practice in the Hotlanta weather by hitting rocks with a stick and working on my pitching accuracy by throwing rocks at trees.
I had my first workout with the Cubs when I was 14 thanks to my mentor, the late T.J. Wilson. I was drafted by the Cubs at age 18 while I was a senior at Westlake High School. Instead of signing, I attended Georgia State University as a student-athlete (baseball).
Due to a lack of commitment and discipline, I was academically ineligible at the end of the season and transferred to Dekalb College where I experienced the same fate.
Everyone you go, there you are.
I was drafted again by the Cubs in 1996 and this time I signed only to play two years because of a lack of discipline and commitment. I define commitment as making and keeping a promise starting first with yourself. Discipline is doing things you need to do even when you don't want to do them.
Because I lacked the strong character traits I needed in order to be agile early on in life, I experienced a lot of heartache and disappointments.
For the 20-plus years since my professional baseball playing days ended, I have been regarded among the top professional hitting coaches in America. That is largely due to my commitment and discipline.
Commit and discipline yourself to being agile so that you can win at the game of life.
As Redd Foxx once said, "Life is hard. It's harder when you're stupid."
To help keep your skills sharp, we have introduced a new type of Skill Build—our Virtual Skill Build—where I can help you develop hitting skills anytime, anywhere using anything.
Remember: Intelligence tops being smart.
For more information, visit www.diamonddirectors.com today. Also, check out our Digital Magazine.
C.J. Stewart has built a reputation as one of the leading professional hitting instructors in the country. He is a former professional baseball player in the Chicago Cubs organization and has also served as an associate scout for the Cincinnati Reds. As founder and CEO of Diamond Directors Player Development, C.J. has more than 22 years of player development experience and has built an impressive list of clients, including some of the top young prospects in baseball today. If your desire is to change your game for the better, C.J. Stewart has a proven system of development and a track record of success that can work for you.