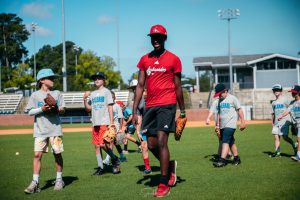 Did you know that athletics are biblical? 2 Timothy 2:5 ESV says, "An athlete is not crowned unless he competes according to the rules." Well, what are the rules? To help answer that, there are six Core Values that our L.E.A.D. Ambassadors (use link https://www.lead2legacy.org/) adhere to:
Excellence – Meeting expectations
Humility – Not thinking of yourself less so that you can serve others more
Integrity – Doing the right thing even when you can do the wrong thing
Loyalty – Doing the right thing for the right reasons, even if they're not popular
Stewardship – Protector of your values and people
Teamwork – Being your best within a group of people who are being their best for a specific purpose
Sports was the one thing that kept me focused on making good decisions when I was a child. It also shaped my character through adulthood. Unfortunately, too many athletes participate in sports for success failing to realize that significance is greater than success. Significance is using your success to serve others.
To help keep your skills sharp, we have introduced a new type of Skill Build—our Virtual Skill Build—where I can help you develop hitting skills anytime, anywhere using anything. Check it out.
Remember: Intelligence tops being smart.
For more information, visit www.diamonddirectors.com today. Also, check out our Digital Magazine.
C.J. Stewart has built a reputation as one of the leading professional hitting instructors in the country. He is a former professional baseball player in the Chicago Cubs organization and has also served as an associate scout for the Cincinnati Reds. As founder and CEO of Diamond Directors Player Development, C.J. has more than 22 years of player development experience and has built an impressive list of clients, including some of the top young prospects in baseball today. If your desire is to change your game for the better, C.J. Stewart has a proven system of development and a track record of success that can work for you.