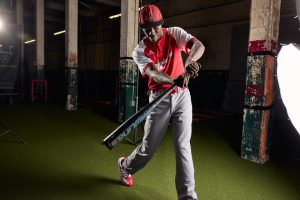 When all else fails, be athletic. To help you get into the groove, here are the five A's I teach my hitters, which enables them to become elite hitters.
Attitude – How you act
Awareness – How you think
Adjustments – How you respond
Aptitude – How you correct
Athleticism – How you make things happen
When most people hear about somebody being athletic, they consider the physical stuff. But athleticism is more mental than anything because being athletic means you can make things happen.
In sports just like in life, you cannot practice and train for everything. That's why you have to think at a high level and in a critical manner so you can make good decisions and perform.
I help my hitters become more athletic by creating a training experience that is stressful. I also demand they do things in my Hitting Lab—things they have never done before so that in games they can be confident in their ability to think critically.
Talent is something you do well, while habits are things you do well without thought, and skills are things you do well repeatedly without thought while under stress.
To help keep your skills sharp, we have introduced a new type of Skill Build—our Virtual Skill Build—where I can help you develop hitting skills anytime, anywhere using anything.
Remember: Intelligence tops being smart.
For more information, visit www.diamonddirectors.com today. Also, check out our Digital Magazine.
C.J. Stewart has built a reputation as one of the leading professional hitting instructors in the country. He is a former professional baseball player in the Chicago Cubs organization and has also served as an associate scout for the Cincinnati Reds. As founder and CEO of Diamond Directors Player Development, C.J. has more than 22 years of player development experience and has built an impressive list of clients, including some of the top young prospects in baseball today. If your desire is to change your game for the better, C.J. Stewart has a proven system of development and a track record of success that can work for you.