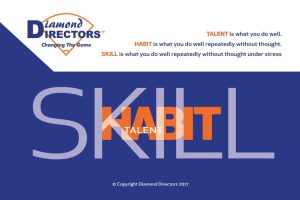 Aptitude is the ability to learn and apply. For example, the SAT (Scholastic Aptitude Test) is a very important test that determines if you will be admitted into some colleges and universities. The test measures your ability to learn and apply.
While you may graduate from high school with a 4.0, colleges and universities want to know you can come into their system to be educated, graduate, be gainfully employed and become a reliable donor.
What's the difference between talent, habits and skills?
Talent are things we do well; habits are things we do well without thought, and skills are things we do well repeatedly without thought while under stress.
Without aptitude, you can never convert your talent to habits and then skills. Talent is having a lot of bat speed while skills is being able to control the barrel to drive varying pitch types and speeds thrown in varying locations.
Skill also is being able to perform when you are not feeling your best mentally, emotionally and physically.
Aptitude is part of my five A's, which I have been committed to teaching my hitters all month of December, help prepare them for the New Year.
Attitude – How you act
Awareness – How you think
Adjustments – How you respond
Aptitude – How you correct
Athleticism – How you make things happen
Stay tuned next week as I end with the fifth A, "athleticism."
To help keep your skills sharp, we have introduced a new type of Skill Build—our Virtual Skill Build—where I can help you develop hitting skills anytime, anywhere using anything.
Remember: Intelligence tops being smart.
For more information, visit www.diamonddirectors.com today. Also, check out our Digital Magazine.
C.J. Stewart has built a reputation as one of the leading professional hitting instructors in the country. He is a former professional baseball player in the Chicago Cubs organization and has also served as an associate scout for the Cincinnati Reds. As founder and CEO of Diamond Directors Player Development, C.J. has more than 22 years of player development experience and has built an impressive list of clients, including some of the top young prospects in baseball today. If your desire is to change your game for the better, C.J. Stewart has a proven system of development and a track record of success that can work for you.