The 2016 MLB First-Year Player Draft is tomorrow June 9. While millions of young players dream of becoming a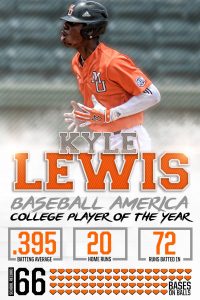 Major League Baseball player, but only 1,500 will be drafted each year, with each of the 30 MLB teams receiving 50 picks.
Subsequently, many are drafted, with few ever making the Majors.
I was drafted twice by the Chicago Cubs and never made it to the Majors, mainly due to poor character and work ethic. However, I've enjoyed a significant 18 year career as a professional baseball swing coach, developing and mentoring numerous Major Leaguers such as Jason Heyward, Dexter Fowler, Andrew McCutchen and Tim Beckham, to name a few.
If all goes well, Diamond Directors client Kyle Lewis will be a top three overall pick. Kyle continues to take the steps necessary to achieve his dream. Should Kyle dream of becoming a Big Leaguer or Major Leaguer? Here's the difference:
MLB First-Year Player Draft – Opportunity to become a professional person who plays professional baseball
Minor Leagues – Assessment and learning to become a professional person who plays professional baseball
Major Leagues – Competition of professional baseball players
Major Leaguer – A professional baseball player
Big Leaguer – A professional person (of high character, compassion and consistency) who plays professional baseball and wins at the game of life
The Anatomy of a Big Leaguer
Head
Sound judgement is important. Without it, swift failure is at the door, and it impacts you and others. Big Leaguers have a good head on their shoulders.
Eyes
Big Leaguers are willing and able to acknowledge everybody who sees the greatness in them. They respect their fans. Acknowledgment of others who spend their hard earned money to see you costs mere energy.
Ears
They listen well because they don't know what they don't know. Ignorance isn't a bad thing, especially when you are humble.
Heart
Humility isn't thinking less than of yourself, but rather thinking of others more than yourself. Failure doesn't look so bad on the humble.
Mouth
Wise people use their mouths well by asking for help. Rare are the times when they are perceived as being a "know it all," because their mouth moves faster than their bat tracking a 100 MPH fastball.
Hands
You can't give what you don't have. Count it as a blessing to work with your hands in baseball and serve others well with them.
Feet
Big Leaguers run to win and inspire. They proudly wear their cleats for success (individual) and significance (others).
Who's your favorite Major League Baseball player? What do you like the most about him as a player? What do you like the most about his personality? What career can you envision him pursuing after his MLBaseball career is over?
The world needs more Big Leaguers than Major Leaguers. Congratulations to all of the 2016 MLB First-Year Player Draft selections.
Remember: Intelligence trumps being smart.
For more information, visit www.diamonddirectors.com today. Also, check out our Digital Magazine.
BIO
C.J. Stewart has built a reputation as one of the leading professional hitting instructors in the country. He is a former professional baseball player in the Chicago Cubs organization and has also served as an area scout for the Cincinnati Reds. As founder and CEO of Diamond Directors Player Development, CJ has more than 12 years of player development experience and has built an impressive list of clients, including some of the top young prospects in baseball today. If your desire is to change your game for the better, C.J Stewart has a proven system of development and track record of success that can work for you.