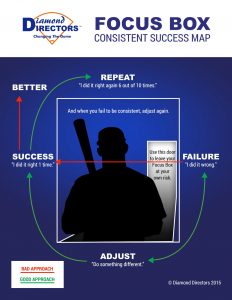 Commitment is the making and keeping of a promise. Discipline is doing the things that you must do even when you don't want to do them. The reason you need to master the making and keeping of commitments is because it builds trust.
Legendary film actor John Wayne once said, "Life is tough, but it's tougher when you're stupid."
That's why having discipline is so important. Every day for the rest of our life you will be required to do things you don't want to do. Young athletes who get things done with excellence, even when they don't want to do them, can become Major League Baseball players, admirable husbands and trusted community leaders.
Here's my three-step process to mastering commitment and discipline:
Identify something you need to do but don't want to do.
Make a commitment to doing it everyday for the next 30 days.
Do it everyday for the next 30 days.
For the last five years, I've been making notes on one thing that I learned every day. My iPhone is more than a toy, it's a tool. Starting out, the task of recording one thing was so mundane that I almost stopped. But I stayed committed and disciplined to the task, realizing that success leaves clues. That being said, I know that I can learn a lot about myself if I stay engaged and intentional about learning something from somebody each and every day.
When I was a teenager, there were mundane things I struggled to do—things that soldiers must do before they are trusted with weapons to use in battle. Can you do one or all of the following three things for the next 30 days?
Make your bed everyday for 30 days.
Make sure your room is clean everyday for 30 days.
Clean your cleats spotless after every practice and/or game for 30 days.
If you lack commitment and discipline, you will never become a great hitter. You may know a lot, but you won't do a lot.
Remember: Intelligence tops being smart.
For more information, visit www.diamonddirectors.com today. Also, check out our Digital Magazine.
---
C.J. Stewart has built a reputation as one of the leading professional hitting instructors in the country. He is a former professional baseball player in the Chicago Cubs organization and has also served as an area scout for the Cincinnati Reds. As founder and CEO of Diamond Directors Player Development, C.J. has more than 12 years of player development experience and has built an impressive list of clients, including some of the top young prospects in baseball today. If your desire is to change your game for the better, C.J. Stewart has a proven system of development and track record of success that can work for you.