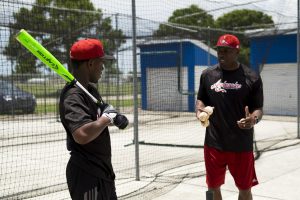 Who are you and what do you stand for? Are you defined by your ability to hit a baseball? I hope not. Our character makes up who we are. I have six core values I live by that govern my daily actions:
Excellence – Meeting expectations
Humility – Not thinking less of yourself while thinking of others more than yourself
Integrity – Doing the right thing even when you can do the wrong thing
Loyalty – Unwavering commitment
Stewardship – Protection of said values and beliefs
Teamwork – Individuals working at a level of excellence for a specific goal
Baseball should be what you do. And serving others through baseball as a platform should speak to your significance.
It's November and we are in the Build Phase (November-January) within my Diamond Directors development methodology. We're building habits and strength for a swing that we determined worked by way of three months in our Assessment Phase (August-October).
We all have two beast that live within us as baseball players and there's no denying it. One is Bad Physical Habits (BPH) and the other is Good Mental Habits (GMH).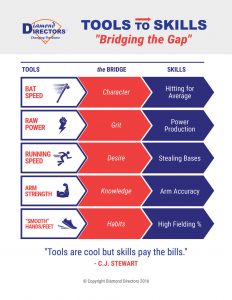 BPH – Bad Physical Habits
1. Bad load
2. Bad timing
3. Bad tempo
4. Bad tracking
5. Bad approach
GMH – Good Mental Habits
1. Good awareness
2. Good attitude
3. Good aptitude (ability to learn and apply)
4. Good adjustments (ability to do something different)
5. Good application
Which beast wins the battle? It's the one you feed the most. I'm an accomplished elite baseball swing coach because I'm aware of the value of my time and energy. Both are well served when we feed the development of Good Mental Habits (GMH) in an effort to trump Bad Physical Habits (BPH).
How does your hitting coach feed your GMH?
What are your most common complaints when things are going your way physically?
What are your most common complaints when things are going your way mentally?
Remember: Intelligence trumps being smart.
For more information, visit www.diamonddirectors.com today. Also, check out our Digital Magazine.
BIO
C.J. Stewart has built a reputation as one of the leading professional hitting instructors in the country. He is a former professional baseball player in the Chicago Cubs organization and has also served as an area scout for the Cincinnati Reds. As founder and CEO of Diamond Directors Player Development, CJ has more than 12 years of player development experience and has built an impressive list of clients, including some of the top young prospects in baseball today. If your desire is to change your game for the better, C.J. Stewart has a proven system of development and track record of success that can work for you.