Believe it or not, but you can enhance your development by studying a Major League Baseball game. The key is to know what to look for.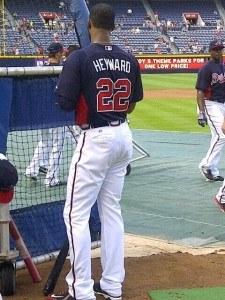 Can you learn much about hitting if you replace the word "study" with "watch?"
Studying is the pursuit of knowledge, whereas watching can be merely for entertainment. So much time is spent trying to develop the perfect swing that we forget to develop the complimentary pieces that ensure we get a lot of hits.
If you're going to take some time to watch the postseason games there are three things you must focus on.
No. 1 – What do pitchers throw and when do they throw it?
There is a reason pitchers throw varying pitch types, speeds and locations. Why do they throw change ups? When is the best time? Change ups generally are 10 mph slower than a fastball and should be thrown with the same delivery and arm speed as a fastball. The pitch has a downward tilt to the pitchers arm side as well.
Pitchers throw the change up in an attempt to get the hitter to lunge forward during his approach, which prevents his upper and lower body from working together. If the upper and lower bodies don't work together, the hitter loses his ability to drive the ball and produce power.
So if the pitcher can throw and command an effective change up, he should throw it whenever he wants to.
Homework: Check out the effectiveness of the change up thrown by Atlanta Braves' pitcher Kris Medlen's (RHP).
No. 2 – Can you track the timing of each pitch?
Timing is one of the most under coached facets of learning to hit with most emphasis being put on making contact. Ironically, you cannot make good contact if you aren't ready to hit on time. When MLB hitters are swinging and missing, and fouling off pitches with regularity, something causes that. Knowing the root of this will lead to proper adjustments being made.
Study these upcoming playoff games to see when a hitter gets ready (loaded) to complete his swing. The pitch's timing is based on the mound distance and the pitcher's fastball velocity.
Homework: Watch how MLB hitters positively or negatively time their load based on the pitcher's delivery.
No. 3 – Do productive at bats turn into hits?
Every Major League hitter competes to finish the season with a .300 or above batting average – the standard for quality at bats. Elite MLB hitters have productive at bats 50 percent of the time in order to get a hit 30 percent of the time during the course of a season.
A productive at bat occurs when a hitter:
1. Hits the ball hard anywhere in play (regardless of the outcome)
2. Sees at least six pitches in the at bat (regardless of the outcome)
3. Draws a walk
4. Executes an offensive strategy such as a "hit and run" or advancing the runner
Having a productive at bat demonstrates discipline, awareness, bat and body control, and repeatable hitting mechanics, just to name a few. So, if you're having a productive at bat 50 percent of the time as a hitter, you'll accidentally get a hit 30 percent of the time because you're doing the right things the right way most of the time.
As you watch these postseason games, see if you can spot when productive at bats turn into hits.
Remember: Good hitters don't work hard; they work smart.
For more information, visit www.diamonddirectors.com today.
BIO:
C.J. Stewart has built a reputation as one of the leading professional hitting instructors in the country. He is a former professional baseball player in the Chicago Cubs organization and has also served as an area scout for the Cincinnati Reds. As founder and CEO of Diamond Directors Player Development, CJ has more than 12 years of player development experience and has built an impressive list of clients, including some of the top young prospects in baseball today. If your desire is to change your game for the better, C.J Stewart has a proven system of development and track record of success that can work for you.