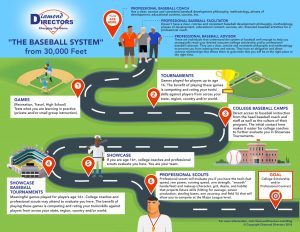 One of the first things I understood when I got started 20 years ago as a coach was to build a wall to keep myself away from parents. I didn't want them to know what I didn't know.
I had passion, but I didn't have a clear method for developing talent. So I relied on the next best things when you don't know what you're doing:
Fake it until you make it
Scream and dream
Let the cream rise to the top
As coaches, we intentionally and unintentionally build walls between us and parents. And, I know, it can be frustrating for the parents. I'm the parent of a high daughter who has aspirations of competing in college as a tennis player and clarity and honesty from coaches is invaluable.
So, I decided to ask eight parents to share what frustrates them the most about the world of baseball. As you will see from their responses, honesty is everything. I appreciate their courage and clarity.
1. "Complaining isn't considered polite or a behavior that mature people cultivate. But your complaint can reveal what matters most to you. I learned this truth from Atlanta organizational and developmental psychologist, Dr. Keith Eigel, and his book,"The Map," which talks about the stages of leadership growth.  Your complaint can essentially reveal your values.
The most frustrating aspect of the baseball system from a father's perspective is surviving the July/August travel baseball program selection processes. A five-year-old boy who plays T-ball and baseball at a neighborhood park through the age of 12 suddenly must navigate a gauntlet of tryouts for various travel programs as he grows from 13-16. The tryout process clearly weeds out mediocre players, but also stops many kids from developing skills and building their abilities as their bodies and minds are traversing middle school and early high school.
Paying the tryout fees, perhaps paying for a club instructional session, and charting the course from one program facility to another can be disorienting and disheartening.
Our son loved playing baseball at our neighborhood park. His final 12-year-old season was full of RBIs, game winning plays, supportive mentoring coaches and capped off by a regular season and championship team trophy. All of this happened around neighbors and families we still see at the grocery store, barber shop, church and around the community. During the next two years of travel ball tryouts, we endlessly sought Pony League opportunities and middle school travel teams. After many closed doors, each year we would mysteriously get a mid-season invitation to fill an open spot. And we took every invitation our son received, gratefully.
Thankfully, we had a competitive middle school baseball team and a high school JV team that provide January through May playing time. Now that our son is almost 17 and he drives to his workouts with his trainer and with CJ Stewart. He continues to compete on an academic travel team with wonderfully caring coaches and families.
The baseball system is daunting. Helping your son grow from his childhood love to being a competitive athlete requires many caring advisors, coaches and perseverance. My complaint about the middle school year transitions and tryout process for travel programs reflects my value of helping kids grow and giving young students pathways to keep enjoying the sport of baseball."
2. "As a parent, the frustrating part of the baseball factory is the inequity of the system. It seems to me if you can afford to expose a child to all that's listed, you are more likely, statistically speaking, to have someone see something they like. Thinking as a baseball fan and seeing the decline of popularity in 'inner cities' (coded term for lack of African American by MLB in my opinion) is a telling factor and part of the dynamic of footballs growth in these communities. The need for more talent leads to colleges and others looking further and deeper for talent and therefore showcases, while they exist for football are not as costly, biased or prevalent.
At the same time basketball has a ton of showcases, but the cost is not as high as the expense of a baseball showcase, and, therefore, more accessible to more economic groups."
3. "Team coaches don't have time to coach individual players and the team, so I'm not sure if my son is learning all he can. There are lots of opinions from volunteer and professional coaches alike. Finding the right path for your child is not always obvious, but it takes asking a lot of questions. There's no magic formula, so this can be frustrating and takes being intentional and focused at times and, at other times, patient to let things work themselves out."
4. "There is not consistent coaching throughout the process."
5. "The most frustrating part of the system is the stress and anxiety it creates for my son. This bothers me the most because the intensity of the baseball world is extremely necessary. Despite the necessity of the intensity, it is hard to imagine how my son must feel through the entire process and the mental toll that weighs on him."
6. "Trying to find what works for our son. Remaining disciplined and following a path that you believe without listening to others."
7. "The professional scouts are the most frustrating part because I feel that talent is overlook . Based off how the child is exposed to that scout determines if he would get that scholarship, what if he is never put in front of that scout ? Where should he go to find the scouts. That the most confusing one to me."
8. "Weekend tournaments are frustrating because the schedule is unpredictable and you may end up playing four games in one day, which causes physical stress on the players. I think scheduled double headers throughout the week is better for physical development."
Remember: Intelligence trumps being smart.
For more information, visit www.diamonddirectors.com today. Also, check out our Digital Magazine.
__________________________________________________________________________
C.J. Stewart has built a reputation as one of the leading professional hitting instructors in the country. He is a former professional baseball player in the Chicago Cubs organization and has also served as an area scout for the Cincinnati Reds. As founder and CEO of Diamond Directors Player Development, CJ has more than 12 years of player development experience and has built an impressive list of clients, including some of the top young prospects in baseball today. If your desire is to change your game for the better, C.J. Stewart has a proven system of development and track record of success that can work for you.