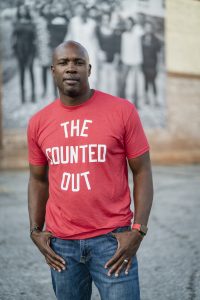 Being "athletic" can be used to describe Black baseball players in a demeaning and derogatory way. I define athleticism as being able to execute something even when you lack the knowledge to do it. Being athletic requires a high level of critical thinking and aptitude.
If you disagree with my aforementioned definition of athleticism, I challenge you to give me a better one—right here and right now.
As a child, I would watch Chicago Cubs baseball games with my grandfather in his bedroom in Southwest Atlanta on Beecher Street. We listened to the game as the air conditioner roared.
It was 1984. I was eight years old. Both the Cubs and the Atlanta Braves had all of their home and away games televised on the SuperStations back then. I'd watch the Cubs in the daytime and the Braves at night.
The Cubs won their division in 1984, while the Braves finished that season with an 80-82 record. The Cubs were my favorite MLB team because they were winning and they had several notable African-American players on their roster.
There are some people who say they are colorblind and they say it with such positive conviction. At eight, living in financial poverty in Atlanta, both sitcoms and the nightly news told me that I was Black and at the bottom in America. But baseball showed me I could climb to the top.
I didn't see a lot of Black people on TV doing positive things other than baseball players. I saw examples of positive role models among my parents, my extended family, school teachers, coaches and church community, but they weren't on TV.
When the Cubs game ended, I'd go outside in the Hotlanta weather and play an entire game by myself. I would use a stick and rocks and hit lots of homeruns. I struck every batter I faced throwing rocks to trees.
At my age, I didn't have a professional baseball coach. I didn't play on a well-manicured baseball field using hundreds of dollars' worth of equipment.
Not only did I not have it, but nobody did. From my recollection, youth baseball started to become a multi-billion industry when I was age 16 in 1992. That's when kids started to play Travel baseball instead of the commonplace park baseball.
I had my first professional tryout with the Chicago Cubs when I was age 14.
I experienced my first batting lesson with Denny Pritchett at age 14.
I started lifting weights during my high school PE class around age 15.
I started playing Travel baseball at age 16.
I was drafted by the Cubs my senior year of high school out of Westlake High School in 1994.
I attended Georgia State University as a student-athlete (baseball) 1994-95.
I attended Dekalb College as a student-athlete (baseball) 1995-96.
I was drafted again by the Chicago Cubs in 1996, signed and played professionally for two years.
Here's the point in two sentences: Black boys being athletic is not a death sentence. It can be a mental skill that can help you pay the bills.
At age 44, my personal mission in life is to be significant by serving millions and bringing them into a relationship with Christ starting with my wife, Kelli, and our daughters Mackenzi and Mackenna.
Learn more about me at iamcjstewart.com.
To help keep your skills sharp, we have introduced a new type of Skill Build—our Virtual Skill Build, where I can help you develop hitting skills anytime, anywhere using anything. Check it out.
Remember: Intelligence tops being smart.
For more information, visit www.diamonddirectors.com today. Also, check out our Digital Magazine.
C.J. Stewart has built a reputation as one of the leading professional hitting instructors in the country. He is a former professional baseball player in the Chicago Cubs organization and has also served as an associate scout for the Cincinnati Reds. As founder and CEO of Diamond Directors Player Development, C.J. has more than 22 years of player development experience and has built an impressive list of clients, including some of the top young prospects in baseball today. If your desire is to change your game for the better, C.J. Stewart has a proven system of development and a track record of success that can work for you.