From where I sit, the word coach doesn't have a clear definition today. I'm not talking about the "means of transportation" version of the word. That's pretty clear. I'm talking about the sports version, which is defined as a person who is involved in the direction, instruction and training of the operations of a sports team or individual person. A coach may also be a teacher.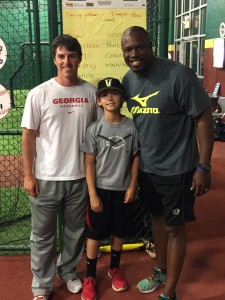 But right here, in this blog, I am declaring that a coach isn't just a person who enjoys working with kids. My definition of a coach is someone who can get his player (or players) to reach his (or their) full potential.
For some players, full potential may mean making their high school team or reaching the professional level. And that takes coaching a player to his full potential.
Before you give a coach permission to instruct you, here are three questions you should ask:
Question No. 1 – How do you learn?
The three major learning styles are visual (learning by seeing), auditory (learning by hearing) and kinesthetic (learning by doing). If your coach doesn't know how he learns, he may not know how you learn. Early in my coaching career, I spoke with a lot of ignorance. It wasn't intentional – it was that I just didn't know any better. I didn't have any good mentors in the coaching profession. Talking often is perceived as teaching, but they aren't the same. Good teachers understand learning styles and are good coaches. Ask your coach what his learning style is, and then ask him if he knows yours.
Question No. 2 – Why do you want to coach me?
I hear coaches say all the time that they coach because, "They are doing it for the kids." That's a good thing, but in order to be impactful, you must be effective. The "why" is just as important as the "what." The "why" is your passion. It is the fuel that will allow you to hang in there when you're not performing well. Share your specific long-term baseball goals with your coach. If you want to play professionally, tell him. If you want to become a college baseball coach, let him know. After you share your dreams, ask him why he wants to coach you. If he doesn't know, he won't be effective.
Question No. 3 – What's next?
Being a good coach is an awesome job. I coached Jason Heyward, Andrew McCutchen
and Dexter Fowler as teenagers. What they learned continues to be a part of their successful careers in the Majors. I also coached several young men who now are leaders in the financial, legal and real estate industries. To sacrifice and spend hours on the baseball field counts for something. Based on the time you spend with your coach, ask him what's next for you.
Remember: Good hitters don't work hard; they work smart.
For more information, visit www.diamonddirectors.com today.
BIO
C.J. Stewart has built a reputation as one of the leading professional hitting instructors in the country. He is a former professional baseball player in the Chicago Cubs organization and has also served as an area scout for the Cincinnati Reds. As founder and CEO of Diamond Directors Player Development, CJ has more than 12 years of player development experience and has built an impressive list of clients, including some of the top young prospects in baseball today. If your desire is to change your game for the better, C.J Stewart has a proven system of development and track record of success that can work for you.