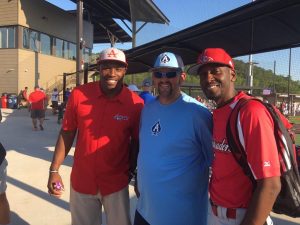 It's June and the temperature is starting to get hot in Georgia. This is the time of year where your bats need to get hot, too, if you want to play at the collegiate or professional levels.
Are you ready to experience a great June at the plate? Have you prepared yourself?
Here are four questions I recently asked three of my clients about their summer baseball experience:
What do you enjoy the most about summer baseball?
What causes you the most stress in summer baseball?
How do you overcome that stress?
What's your favorite hitting drill?
Armaan Painter, The Westminster Schools (c/o 2016), University of Missouri
I enjoy the fast-pace, multiple game weekends, and the fire and passion the coaches bring to the field everyday, especially at 6-4-3 (Baseball). When I go to the field, I know it'll be a day filled with laughter, fun and excitement, but also a day of competitiveness, intensity and passion.
What used to cause me the most stress was knowing there were scouts coming to see me at the games.
I overcame the stress by realizing the work and time I had put into perfecting my game, specifically my swing. There was no reason to stress or be nervous. If you are prepared, you shouldn't be nervous.
My favorite hitting drill is setting a target at the end of the cage, and then picking a goal for how many times I can hit it into the target, say about, 100 swings. The drill helps me track my bat control. It is a drill that's both fun and highly competitive, especially when you go up against another player on your team or who is working out with you.
Will Prigge, age 11, Buckhead Baseball
I enjoy playing in the summer with players who are good and can make plays.
I don't get stressed.
My favorite hitting drill is the Hop Drill.
James Clements, The Walker School (c/o 2012), Georgia State University Baseball (c/o 2016)
My favorite part of summer baseball was getting familiar with a different area of the country (The Hamptons) and making new relationships.
The most stressful part was adapting to a new setting alone at first.
I overcame that by paying attention to the customs of my host family, and making an effort to get involved in the community.
My favorite hitting drill was placing hitting targets at the back of the cage.
How would you respond to these questions? What does summer baseball mean to you and your goals on the baseball field?
Remember: Intelligence trumps being smart.
For more information, visit www.diamonddirectors.com today. Also, check out our Digital Magazine.
BIO
C.J. Stewart has built a reputation as one of the leading professional hitting instructors in the country. He is a former professional baseball player in the Chicago Cubs organization and has also served as an area scout for the Cincinnati Reds. As founder and CEO of Diamond Directors Player Development, CJ has more than 12 years of player development experience and has built an impressive list of clients, including some of the top young prospects in baseball today. If your desire is to change your game for the better, C.J Stewart has a proven system of development and track record of success that can work for you.