Tis' the season to build your swing habits and strength if you want to have a productive spring and summer. If you're an amateur hitter that takes a casual approach to building good habits, it's because you don't know any better.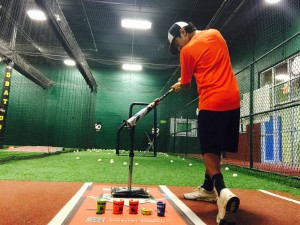 On the other hand, professional hitters understand that swing development is a full-time job.
Listen, you don't have to make tons of money as a baseball player (can you imagine what the Miami Marlins' Giancarlo Stanton would be able to do with that $325 million contract?) to develop your swing. That's what I'm here for.
In the Diamond Director's development program, you should be assessing your swing mechanics from August through October so that we can develop good swing habits November through January.
Here are three things that your swing must improve on in November.
Strength
It is a fact that it takes 3,000 reps to develop a habit to do anything. If you walk away from the game to play darts, it will take throwing darts 3,000 a day to get the process down correctly. But you can't take 3,000 quality reps unless you're strong enough to do so. To become an elite hitter that does things right and often, you must develop strength in your legs, shoulders, hip flexors, lower back, abs and forearms. Here's how:
Stance/Load x 3,000 reps
Approach x 3,000 reps
Contact x 3,000 reps
Extension/Finish x 3,000 reps
Before you freak out, these habits are based on the parts of your swing, which you should be working on November through January in the Diamond Directors Building Phase.
Separation
A major skill that helps separate elite hitters from everybody else is the ability to separate the load from the approach. You must separate these two in order to properly track the pitch. Anyone with vision can see a baseball moving at you, but tracking the pitch is how you determine where the good curve balls, sliders, etc., will land after the ball leaves the pitcher's hand.
Your load must be on time – with good tempo – in order to properly separate it from the approach to the ball. The approach simply is when your hands and feet work together to direct the bat to the ball. If done properly, you will look like this.
I use Dartfish Express to measure and analyze my hitters' ability to separate the load from the approach and to properly track the pitch. It takes a pitch about .5 second from its release to cross home plate. When separation is done properly, there is .3 to .4 seconds in between the load and approach. You can try it or you can deny it.
Success
Success is not based on feeling good. That's not what creates elite hitters. You can't improve if you don't know where you stand and what you should be doing. Here is a simple drill that I use to measure my hitters' success.
1. Get a Tanner Tee (www.tannertees.com/) and 100 baseballs.
2. Hang a target anywhere in your batting cage 45-60 feet away from the tee.
3. Take 100 swings.
This is the results for my Diamond Directors clients. See it in action by clicking here.
LINK: http://youtu.be/ltLS45wrOh8
MLB-30 out of 100 minimum
NCAA-25 out of 100 minimum
Elite amateur-20 out of 100 minimum
Youth-15 out of 100 minimum
Remember: Good hitters don't work hard; they work smart.
For more information, visit www.diamonddirectors.com today.
BIO
C.J. Stewart has built a reputation as one of the leading professional hitting instructors in the country. He is a former professional baseball player in the Chicago Cubs organization and has also served as an area scout for the Cincinnati Reds. As founder and CEO of Diamond Directors Player Development, CJ has more than 12 years of player development experience and has built an impressive list of clients, including some of the top young prospects in baseball today. If your desire is to change your game for the better, C.J Stewart has a proven system of development and track record of success that can work for you.