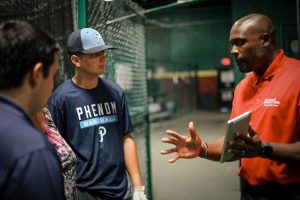 WARNING: This is a long blog. It should only be read by those who care about being coached by a coach who cares. I am really good at coaching. Depending on the story that shapes your current life perspective, my opening words may have been so offensive that you did not even finish reading this blog or future ones. When you are finished, I hope you will see how much I care about the goals you have in front of you.
Section #1
I was born in the inner city of Atlanta in poverty in 1976. I was introduced to baseball by my grandfather around the age of 6 or so. I can remember watching the Cubs play day games on Chicago's WGN Superstation. We would also watch the Atlanta Braves at night on Atlanta's TBS Superstation. My grandmother would fall asleep in the living room watching Channel 2's Monica Kaufman on the evening news.
Neither the Cubs or Braves were any good, but I was connected to the sport because black men were playing the game and it seemed like a lot of fun. I also knew that Jackie Robinson, who was born in Georgia like me, integrated Major League Baseball. We studied him every February during "Black History Month."
Fast-forwarding ahead, I met a man name T.J. Wilson at my high school when I was a freshman. He complimented me on my baseball ability and gave me access to professional instruction. By the summer of 1990, I was 14 years old and working out in front of professional scouts for the Chicago Cubs. They drafted me in 1994 and 1996. I ended up playing two years in the Cubs' organization.
When my playing career was over in 1998, I started giving hitting lessons in East Cobb, a middle-class suburb of Atlanta. I became good really fast because I had logged thousands of hours working with so many hitters of varying skill levels and learning styles.
I studied other coaches, kept a journal and read lots of books about psychology. A friend of mine, Bill McLellan, took my journal and exposed a methodology that I had been intuitively and successfully executing with hitters for years. When I discovered my repeatable methodology for coaching, I became more confident in my ability to coach. My hitters' success would no longer happen by luck, chance, hope or a prayer.
Do you know that it takes 10,000 hours of deliberate practice to develop a skill? Dr. Martin Luther King, Jr. was an amazing speaker. Michael Jackson was an amazing entertainer. Who can you think of who is really good at what he or she does? Whoever it is you can think of, know that he or she put in more than 10,000 hours of deliberate practice to become great.
I have been coaching beginning, amateur and professional hitters professionally since 1998. Since that time, I have coached over 50,000 hours. I have been publishing blogs weekly for 10 years. I have developed 30-plus MLB hitters along with countless college and high school All-Americans.
Section 2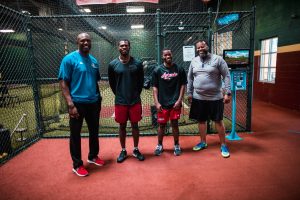 I am a really good coach because I am convicted. I failed as a professional player because I lacked work ethic, which includes six must-have core values:
Excellence – Meeting expectations
Humility – Not thinking of yourself less so you can serve others more
Integrity – Doing the right thing even when you can do the wrong thing
Loyalty – Doing the right thing for the right reasons, even if they are not popular
Stewardship – Being a protector of your values and other people's values
Teamwork – Being your best within a group of people who are being their best for a specific purpose
To care is to be strongly concerned. I care about my clients becoming the best version of themselves on and off the baseball diamond. Me caring for others is a form of healing for me. I spent a lot of my life up until age 25 being very selfish. Now I understand that significance is greater than success. Significance is using your success to serve others. But you can give what you do not have. I have a lot to give because I am really good at coaching.
Why it should matter to you
Being coached by me should only matter to you if you lack self-confidence, motivation, access to opportunities in baseball or advocacy. Teaching the fundamentals of hitting is not that hard. Self-confidence, motivation, access to opportunities in baseball, and advocacy is likened to fuel, oil, transmission fluid, etc.—the stuff that makes the vehicle run.
All of my healthy relationships start with conviction, which leads to a strong connection. That connection leads to a consensus about what we need to do. We do not have time and energy to waste doing "nice to-do things." Consensus building is about promises and guarantees being made. Consensus leads to collaboration. Collaborating with me means you get all of me and my network. And I expect to get all of you.
Section 3
How do you get access to me? It starts with a Hitting Lab Assessment. There are seven steps in my Hitting Lab Assessment process. I will personally work with your child to help get him to the next level. When your child registers with me, here is what he will receive:
No. 1 — Aligned Development Goals
I facilitate your thinking for what you should expect from a Swing Coach for your child.
No. 2 — Player S.M.A.R.T. Goal Mapping
This enables your child to think through his goals. I compare your child's physical talent with his dreams. We predict the future together. This step holds any Swing Coach accountable to that future.
No. 3 — Swing Assessment
I identify parts of the swing that need more development. Your child learns the hitting fundamentals they lack, setting the stage for motivated learning with their Swing Coach.
No. 4 — Video Analysis
Using the Dartfish technology, I break down the parts of the swing and measure the coordination of the parts. My analysis allows us to compare future assessments to measure development. Every player walks away from this video analysis understanding what he is doing right and what he needs to work on. This clarity sets the foundation for motivated learning.
No. 5 — Skill Build Drills
The Skill Build Drills are performed. I focus the drills on the parts of the swing that need the most attention. I look for your child's ability to learn something new and apply it quickly. These Skill Build Drills also will be your child's homework to focus his time and effort on the right things to improve.
No. 6 — Learning Style Diagnosis
I identify which of the three major styles your child has: auditory, visual or kinesthetic. Learning style diagnosis is key for any Swing Coach to connect with your child to ensure consumption and comprehension of the information. Your time and money with any instructor is wasted without them understanding how your child processes information and learns.
No. 7 — 60-Plus Day Homework: The "Prescription"
I email the next stage development plan—the Skill Build Drills homework—along with the S.M.A.R.T. Goal Mapping content. This "Prescription" for improvement ensures your child is focused on the right things. If your child is working on his own—you have your practice plan. If he is working with a Swing Coach, this assessment ensures his lesson time is more productive.
I have priced all of this so everyone will be able to afford this program.
Consider the importance of any roadmap before you start your journey—especially when considering the cost of time and money spent if your child is on a development path with no clear destination or milestones. And do not lose sight of the costs for one hour of a private trainer, let alone a 10-pack of lessons. Without a solid assessment and plan for development, the odds are against you getting a solid return on your time and money.
Act today. Jump onto the fastest path to continuous learning for your child to reach full hitting ability.
To help keep your skills sharp, we have introduced a new type of Skill Build—our Virtual Skill Build, where I can help you develop hitting skills anytime, anywhere, using anything. Check it out.
Remember: Intelligence tops being smart.
For more information, visit www.diamonddirectors.com today. Also, check out our Digital Magazine.
---
C.J. Stewart has built a reputation as one of the leading professional hitting instructors in the country. He is a former professional baseball player in the Chicago Cubs organization and has also served as an area scout for the Cincinnati Reds. As founder and CEO of Diamond Directors Player Development, C.J. has more than 12 years of player development experience and has built an impressive list of clients, including some of the top young prospects in baseball today. If your desire is to change your game for the better, C.J. Stewart has a proven system of development and track record of success that can work for you.