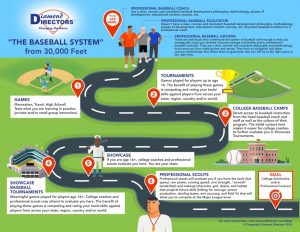 Summer travel baseball brings lots of stress. Stress is only bad when you respond badly. February-April, my hitters are trained under stress in my Hitting Lab. They are taught to maintain their skills (and stress level) May-July. As we have discussed, skills are what you do well repeatedly without thought while under stress. The hitters who handle stress wrong do so because of how they practice.
In my development system, my hitters must first learn how to practice. They get to test what they work on in practice during their games. There is no other purpose to play a baseball game greater than testing what you learn.
Performance—which is above the ability to practice and play—is when the rubber meets the road. There is something on the line that causes stress—things like the state playoffs or playing in a showcase in front of college/pro scouts.
If there's no stress, you cannot become your best.
The hitters committed the least to being the best usually are the ones who complain, blame and shame the most about getting more playing time.
Their default often becomes:
Maybe if I complain, I can get more playing time.
Maybe if I blame my coach for not getting enough swings at practice, I can justify why I'm not getting enough playing time.
Maybe if I shame the kid playing ahead of me, I can feel better about not getting enough playing time.
We're in May, so don't deal with maybes. Build habits, convert those habits to skills and maintain your skills.
To help keep your skills sharp, we have introduced a new type of Skill Build—our Virtual Skill Build—where I can help you develop hitting skills anytime, anywhere using anything. Check it out.
Remember: Intelligence tops being smart.
For more information, visit www.diamonddirectors.com today. Also, check out our Digital Magazine.
C.J. Stewart has built a reputation as one of the leading professional hitting instructors in the country. He is a former professional baseball player in the Chicago Cubs organization and has also served as an associate scout for the Cincinnati Reds. As founder and CEO of Diamond Directors Player Development, C.J. has more than 22 years of player development experience and has built an impressive list of clients, including some of the top young prospects in baseball today. If your desire is to change your game for the better, C.J. Stewart has a proven system of development and a track record of success that can work for you.