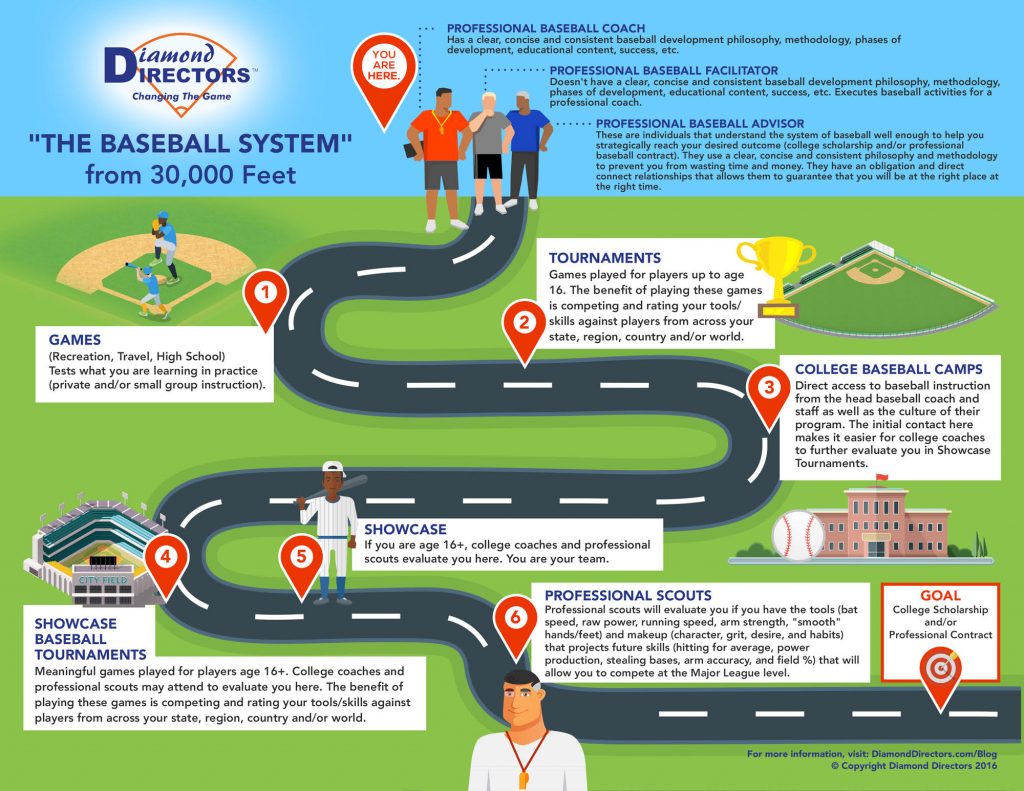 "He who owns the definition owns the movement." – C.J. Stewart
At 30,000 feet, planes fly. This blog will get us off the ground and get a good look at the system of baseball from an aerial view. The first thing that we must do is define some commonly used words used in the system of baseball:
Coach – Before the word coach was used in sports, it was referred to as a means of transportation. You had a horse and a coach that was controlled by someone. The person in charge ensured that people arrived at their destination safely.
Habit – This is an automatic reaction. For example, it takes 3,000 reps to build a habit, and there are seven parts to the swing that include in sequence stance/load, timing, tempo, tracking, approach, contact, extension and finish.
Skill – This is a habit you can repeat. Bat speed is a tool, while repeating the swing with bat speed and adjusting to varying pitch speeds, types and locations is a skill.
Talent – This is a natural skill. Let's not confuse this with having natural tools. Talent is a skill, not a habit or a tool. You may be able to fly an airplane in the daytime in good weather, but flying at night and in bad weather may require a different skill.
Competition – To compete implies that both individuals or teams have equal talent. If equal talent isn't present, we aren't competing, because someone is only participating. Clayton Kershaw can repeat his pitching delivery and command his pitches at least 70 percent of the time. The only way you can compete with him as a hitter is to repeat your swing at least 70 percent of the time.
Work ethic – This is based on values such as excellence, humility, integrity, loyalty, stewardship and teamwork. "Hard work" makes you tired and, oftentimes causes injury, while "working intelligently" encourages and demands efficiency.
Philosophy – This is a system of behavior that governs what will be taught.
Talk – To speak words
Teach– To communicate what is already understood by the teacher for learning
Listen – To hear
Learn – To understand
Simplistic – This is treating complex problems as if they were simple.
Complex – To complicate by asking questions
Simple – This is something that is easily understood and actionable
Words that aren't commonly used and should be understood:
Convolution – To intentionally or unintentionally complicate something
Aptitude – This is the ability to learn and apply.
Methodology – This is a sequential and intentional way of doing things to fulfill a specific outcome.
Standard – This is a required and agreed level of attainment.
Responsibility – An obligation to do something
Accountability – This means being responsible for accomplishing the standard.
Consequences – These are the results of actions or lack there of.
Three of the most important people in the system of baseball are coaches, advisors and facilitators. I liken these three individuals to the three who control our destiny when traveling on an airplane:
Coach = Pilot
Advisor = Co-pilot
Facilitator = Flight attendant
If a plane crashes, ultimately, it is the responsibility of the pilot. I'm not a pilot. But if I was, I would be careful to select my co-pilot and flight attendants. I would be clear in my expectations of them. My passengers wouldn't expect the flight attendants to fly the plane. My co-pilot would be capable of flying the plane with my guidance but the pilot is in charge.
In next week's blog, I will go deeper on who and what a professional baseball coach, advisor and facilitator are.
Remember: Intelligence trumps being smart.
For more information, visit www.diamonddirectors.com today. Also, check out our Digital Magazine.
BIO
C.J. Stewart has built a reputation as one of the leading professional hitting instructors in the country. He is a former professional baseball player in the Chicago Cubs organization and has also served as an area scout for the Cincinnati Reds. As founder and CEO of Diamond Directors Player Development, CJ has more than 12 years of player development experience and has built an impressive list of clients, including some of the top young prospects in baseball today. If your desire is to change your game for the better, C.J. Stewart has a proven system of development and track record of success that can work for you.