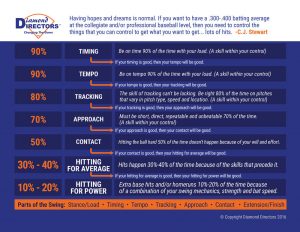 A new year is almost here, and it's time for billions of people on earth to set billions of goals. I believe this generation of baseball players have more access to amazing resources – ones that will help take baseball to new levels.
It's no secret that today's players are no doubt faster and stronger. But they also make a lot of excuses, run from accountability and are unmotivated.
So, before 2017 comes in, make these three resolutions:
No. 1 – Stop making excuses
The only thing worse than failing is making excuses for the failure. Excuses allow you to run from the truth.
You had another disappointing spring season after a non-productive winter, yet your coach gets blamed for not throwing enough batting practice.
You didn't get a college scholarship because your high school coach didn't make enough phone calls on your behalf, yet you never produced when the college coaches came to see the star players on the opposing team.
Stop making excuses and realize that everywhere you go, there you are. Get assessed and set attainable goals with the help of a professional instructor like me. I can serve you online or onsite at DiamondDirectors.com. The truth will set you free.
No. 2 – Start holding yourself accountable
Billions of goals will be set on Jan. 1 that will never be reached. What's your main short term (one to five years) goal for baseball? What's your main long term (six to 10 years) goal for baseball?
You must see the big picture for your life with regards to baseball, and then work backward. As Stephen Covey would say, "You must begin with the end in mind."
Goals must be simple in order to become attainable. If you want to become an elite hitter like many of my clients, here are are few simple things you must do to experience success at all levels of baseball as a hitter:
Get loaded on time with tempo 90 percent of the time
Successfully track the pitch 80 percent of the time, working to determine if it's a fastball, breaking ball, change up, high, low, inside, outside, etc.
Repeat a good approach to the ball 70 percent of the time
Hit the ball hard 50 percent of the time
Hold yourself accountable each month of the year by doing drills that build the four skills above for a minimum of 1,000 reps each skill. Can you do that? I will continue to provide guidance during 2017 with high level skill drills in my blogs. There are more reasons not to do what it takes to be successful. Major League Baseball needs more fans than players.
No. 3 – Stay motivated
Motivated people are inspired by intelligent minds. Intelligent people know what they're doing and also can do it. Smart people know what to do, but aren't able to do it.
I'm inspired by great authors such as T.D. Jakes, John Maxwell and Dr. Tim Elmore. Great people do great things because they motivate themselves to do so based on their commitment to being educated.
So, you want to be an elite hitter? Do you spend more time hitting or studying methods of hitting? How much time do you spend educating yourself about learning styles?
Commit to reading one of my blogs each week in 2017 for high level perspective. That's a good place to start.
Remember: Intelligence trumps being smart.
For more information, visit www.diamonddirectors.com today. Also, check out our Digital Magazine.
BIO
C.J. Stewart has built a reputation as one of the leading professional hitting instructors in the country. He is a former professional baseball player in the Chicago Cubs organization and has also served as an area scout for the Cincinnati Reds. As founder and CEO of Diamond Directors Player Development, CJ has more than 12 years of player development experience and has built an impressive list of clients, including some of the top young prospects in baseball today. If your desire is to change your game for the better, C.J. Stewart has a proven system of development and track record of success that can work for you.