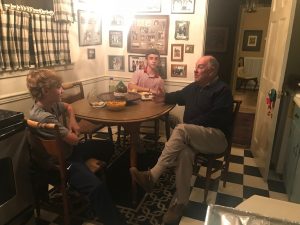 Mr. Jerry "Papa" Ellis is one of my favorite people in the world, even though he's an Alabama Crimson Tide fan. He was an All-American second baseman at Bama back in the day and knows a lot about baseball. Can you see why I listen to him?
I've had the pleasure of coaching his grandsons, Ellis (10th grade), and Will Prigge (8th grade). Both are starters at The Lovett School and 6-4-3 DP Baseball.
Over the Christmas break, Ellis and Will were hanging out with "Papa." This gave me the opportunity to ask them some questions. I'd like to share Papa's wisdom with you.
How did baseball help you become a good man?
Papa: Well, in the first place, I'm not sure how good a man I am, but mainly, you have to know how to get along with people.
What do you know that baseball players today don't know and need to know?
Papa: Fundamentals: How to bunt, how to slide, how to pivot at second base.
What do baseball players today know that you don't know and need to know?
Papa: They know they have to hit for average and hit home runs. Other than that, I don't know.
What are the top three things that young players need to get to become good baseball players?
Papa: The first thing they need to know is the rules. They need to know how to take instruction and have to be able to have a positive attitude.
What are the top three things that young baseball players need to get to become good men?
Papa: Determination, be willing to sacrifice and be brave
In order to be really good, Papa says, you must be willing to embrace all of the above. You must be willing to give a 100 percent. You can't give more but don't give less.
Remember: Intelligence tops being smart.
For more information, visit www.diamonddirectors.com today. Also, check out our Digital Magazine.
_________________________________________________________________________________________
C.J. Stewart has built a reputation as one of the leading professional hitting instructors in the country. He is a former professional baseball player in the Chicago Cubs organization and has also served as an area scout for the Cincinnati Reds. As founder and CEO of Diamond Directors Player Development, C.J. has more than 12 years of player development experience and has built an impressive list of clients, including some of the top young prospects in baseball today. If your desire is to change your game for the better, C.J. Stewart has a proven system of development and track record of success that can work for you.