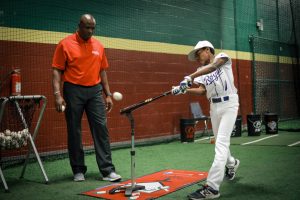 Two-time Olympic champion Gail Devers once said, "Keep your dreams alive. Understand to achieve anything requires faith and belief in yourself, vision, hard work, determination, and dedication. Remember all things are possible for those who believe."
This quote is filled with powerful words that should inspire you to become a great hitter. What's the difference between being inspired and being motivated? Inspiration comes from others, while motivation must come from within.
As my Diamond Directors' hitters know, there are seven parts to the swing and it takes 3,000 reps to build a habit. That's 21,000 reps.
If you are motivated to do what it takes to become a great hitter, you are going to need to use great equipment. Here are the four items that must be on your Christmas Wish List for this year.
For more than 20 years, Tanner Tees has helped me develop Major League Baseball players, military fighter pilots, community leaders, devoted husbands/wives, fathers/mothers, etc. They are are a trusted name that represents excellence.
Diamond Directors has been providing the blueprint of success for diamond sports athletes since 1998. Let us assess your swing in our next Hitting Combine.
Remember: Intelligence tops being smart.
For more information, visit www.diamonddirectors.com today. Also, check out our Digital Magazine.
---
C.J. Stewart has built a reputation as one of the leading professional hitting instructors in the country. He is a former professional baseball player in the Chicago Cubs organization and has also served as an area scout for the Cincinnati Reds. As founder and CEO of Diamond Directors Player Development, C.J. has more than 12 years of player development experience and has built an impressive list of clients, including some of the top young prospects in baseball today. If your desire is to change your game for the better, C.J. Stewart has a proven system of development and track record of success that can work for you.