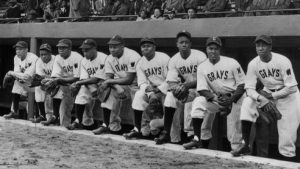 An estimated 40 percent of Negro League players had college educations. Bob Kendrick, president of the Negro Leagues Baseball Museum, says that most of them were from historically Black colleges and universities.
How important is Kendrick's statement? It was once said that Black baseball players were not smart enough to play in the Major Leagues.
I define intelligence as knowing something and being able to do it with what you know. While being smart means you know something, but lack the ability to do anything with it. I argue that Negro League baseball players were very intelligent and resilient, which is why they were able to exist from 1920-1948.
Did you know the batting helmets and catchers shin guards were invented in the Negro Leagues?
Did you know that night games were invented in the Negro Leagues?
Did you know that Moses Fleetwood Walker and his brother, Welday Wilberforce Walker, were the first two black players in the Major Leagues. They both played for the 1884 Toledo Blue Stockings in the American Association?
To help keep your skills sharp, we have introduced a new type of Skill Build—our Virtual Skill Build, where I can help you develop hitting skills anytime, anywhere using anything. Check it out.
Remember: Intelligence tops being smart.
For more information, visit www.diamonddirectors.com today. Also, check out our Digital Magazine.
_________________________________________________________________
C.J. Stewart has built a reputation as one of the leading professional hitting instructors in the country. He is a former professional baseball player in the Chicago Cubs organization and has also served as an associate scout for the Cincinnati Reds. As founder and CEO of Diamond Directors Player Development, C.J. has more than 22 years of player development experience and has built an impressive list of clients, including some of the top young prospects in baseball today. If your desire is to change your game for the better, C.J. Stewart has a proven system of development and a track record of success that can work for you.