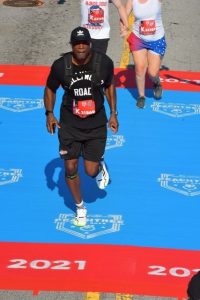 Roy T. Bennett once said, "To learn something new, you need to try new things and not be afraid to be wrong." I have grown so much spiritually, mentally and emotionally in the last two years amid the pandemic and 2020's racial pandemonium.
Two-thousand twenty forced a lot of us to do new things, with many of us still building on that.
I signed up and ran in my first Atlanta Track Club AJC Peachtree Road Race in 2020 because I wanted to do something new. And I had a great time in 2021 and 2022.
Running has now become a lifestyle for me, allowing me to be stronger physically. And I wear my clothes a lot better, too. It also has allowed me to get to know myself better. Running for 6.2 miles is an ideal time of meditation for me. I ask myself a lot of questions and wrestle with myself on the answer.
How do you block yourself from getting to know you?
What do you do to allow yourself to really get to know you?
What's something new you started in 2020 that you continue to do now—and makes you a better you?
To help keep your skills sharp, we have introduced a new type of Skill Build—our Virtual Skill Build—where I can help you develop hitting skills anytime, anywhere using anything.
Remember: Intelligence tops being smart.
For more information, visit www.diamonddirectors.com today. Also, check out our Digital Magazine.
C.J. Stewart has built a reputation as one of the leading professional hitting instructors in the country. He is a former professional baseball player in the Chicago Cubs organization and has also served as an associate scout for the Cincinnati Reds. As founder and CEO of Diamond Directors Player Development, C.J. has more than 22 years of player development experience and has built an impressive list of clients, including some of the top young prospects in baseball today. If your desire is to change your game for the better, C.J. Stewart has a proven system of development and a track record of success that can work for you.