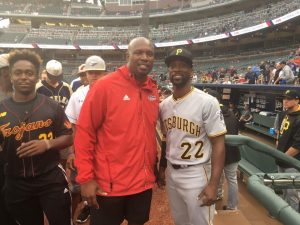 Instinct is more important than intelligence. Instincts is a way of thinking in response to something and great baseball players have great instincts. Unfortunately, thinking isn't a given for many of us.
My expertise is developing hitters, so that's the focus of this blog with respect to the need for instincts.
There are seven parts to the swing and it takes 3,000 reps per part to build a habit. It takes another 3,000 reps per seven parts to convert the habit to a skill.
Stance/Load x 3,000 reps
Timing x 3,000 reps
Tempo x 3,000 reps
Tracking x 3,000 reps
Approach x 3,000 reps
Contact x 3,000 reps
Extension/Finish x 3,000 reps
Do the math. That's 21,000 reps to build a habit and another 21,000 reps to convert a habit to a skill. That's 42,000 reps.
Learning what you need to learn about hitting is easy if you're a good listener and athletic. If you have commitment and can make adjustments, you'll be able to put what you know to action.
Before we can get to the need for instincts you got to know something and be able to do it. This is what intelligence is. Instincts is more important than intelligence – like having a brain is more important to living than having a foot.
Intelligence + Instincts = Action
Intelligence – Instincts = Luck
Some people may say that instincts can't be taught, but I disagree. It can be taught by first recognizing you don't have it, and then forcing you to do things that require it.
Ever feel someone coming up behind you? You don't see them, but you feel them. Ever look for a fastball, and then "stay back" on an off-speed pitch with great tempo, as if it was a fastball? That's instinct.
If you can't stay back on an off-speed pitch like you do with a fastball, you might not have good instincts. How do you get there by instinct? You develop your timing, tempo and tracking.
Build Habits
Convert to Skill
Tennis Ball Drill x 3,000 reps
Remember: Intelligence trumps being smart.
For more information, visit www.diamonddirectors.com today. Also, check out our Digital Magazine.
BIO
C.J. Stewart has built a reputation as one of the leading professional hitting instructors in the country. He is a former professional baseball player in the Chicago Cubs organization and has also served as an area scout for the Cincinnati Reds. As founder and CEO of Diamond Directors Player Development, CJ has more than 12 years of player development experience and has built an impressive list of clients, including some of the top young prospects in baseball today. If your desire is to change your game for the better, C.J. Stewart has a proven system of development and track record of success that can work for you.