I'm excited that it's November. It's time for my hitters to finally begin building their strength and habits. We've spent the last three months (August-October) intentionally determining what works and what doesn't with their swing mechanics.
Here's an inside look of the strength and habits that you need to build and why: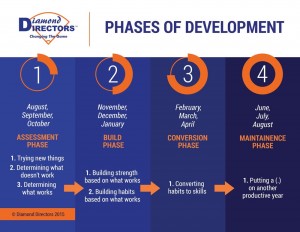 Strength
What is strength? Strength is the quality or state of being strong. I commit to the development of my hitters emotional, mental and physical strength this winter (November-January).
Spiritual Strength – Who you are
Emotional Strength – How you feel
Mental Strength – How you think
Physical Strength – What you do
How do you develop strength?
Muscles are strengthened when they are stressed. I am committed to training my hitters under duress this winter (November-January) during our Build Phase. There is no success without duress.
Why do you need strength?
You need spiritual, emotional, mental and physical strength in order to execute as a hitter.
Execution is required in the spring (Conversion Phase) and begins with establishing a goal in the winter (Build Phase).
The goal requires a methodology to determine what to do.
The phases of development tells us when to do what we do.
Execution is expected as long as you remain committed and disciplined.
Commitment – doing what must be done
Discipline – doing what you don't want to do
Habit
What is a habit? A habit is something that you repeatedly do.
How do you develop good habits?
It takes 3,000 reps to develop a habit. But wait, there's more to it. There are seven parts of the swing that require reps to be built.
Stance/Load x 3,000 reps
Timing x 3,000 reps
Tempo x 3,000 reps
Tracking x 3,000 reps
Approach x 3,000 reps
Contact 3,000 reps
Extension/Finish 3,000 reps
Total: 21,000 reps
I have three to five skill build drills for each part of the swing that I will use to coach my hitters to develop habits this winter. Building these habits no doubt require spiritual, emotional, mental and physical strength. #letsgo
Why do you need good habits?
Without good habits that you can depend on, your success will be left to chance and effort. Chance and effort when combined cause negative spiritual, emotional, mental and physical stress.
Tip of the Week: Check out this clip from Simon Sinek
Remember: Intelligence trumps being smart.
For more information, visit www.diamonddirectors.com today. Check out our Digital Magazine.
BIO
C.J. Stewart has built a reputation as one of the leading professional hitting instructors in the country. He is a former professional baseball player in the Chicago Cubs organization and has also served as an area scout for the Cincinnati Reds. As founder and CEO of Diamond Directors Player Development, CJ has more than 12 years of player development experience and has built an impressive list of clients, including some of the top young prospects in baseball today. If your desire is to change your game for the better, C.J Stewart has a proven system of development and track record of success that can work for you.