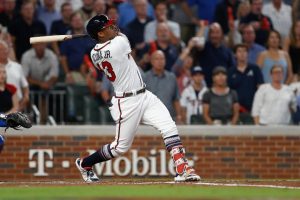 I'm so glad that the MLB has started. Whose your favorite MLB hitter? Mine is Ronald Acuña Jr. of the Atlanta Braves. He does three things really well and I recommend that you study his swing closely.
He's on time.
He's on tempo.
He tracks pitches well.
Time
Getting loaded to hit is important. It is the process of triggering your hands back, taking a short forward stride with your front foot while keeping your weight back. Getting loaded is what hitters do and timing is when they do it.
Did you know that it takes 3,000 reps to build a habit? MLB hitters dedicate time to being on time.
Tempo
If getting loaded is what hitters do and timing is when they do it, then tempo is how they do it. It takes an average fastball half of a second to leave the pitchers hand and cross home plate. That is as fast as you blinking your eyes.
Tempo deals with the speed between the hitters load and approach. MLB hitters will have a .3 to .5 separation between their load and approach. That gives Ronald Acuna enough time to track pitches.
Tracking
Seeing the pitch and tracking it are not the same thing. Tracking pitches is a skill. You already know it takes 3,000 reps to build a habit. It takes another 3,000 reps to convert the habit into a skill.
Tracking allows you to follow the height, tilt and depth of a curve ball. It allows you to follow the change of speed and drop of a change-up.
Lots of hitters spend most of their time developing their swing approach but you cannot effectively attack what you cannot track.
Master the skill of timing, tempo and tracking using the GameSense app.
To help keep your skills sharp, we have introduced a new type of Skill Build—our Virtual Skill Build, where I can help you develop hitting skills anytime, anywhere using anything. Check it out.
Remember: Intelligence tops being smart.
For more information, visit www.diamonddirectors.com today. Also, check out our Digital Magazine.
---
C.J. Stewart has built a reputation as one of the leading professional hitting instructors in the country. He is a former professional baseball player in the Chicago Cubs organization and has also served as an associate scout for the Cincinnati Reds. As founder and CEO of Diamond Directors Player Development, C.J. has more than 22 years of player development experience and has built an impressive list of clients, including some of the top young prospects in baseball today. If your desire is to change your game for the better, C.J. Stewart has a proven system of development and track record of success that can work for you.