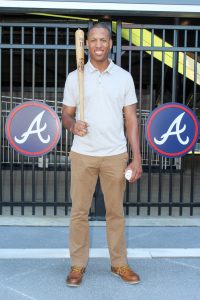 "The whole point of collaboration is that you give and take from each other, and that's how you create things that are totally new." — Virgil Abloh
Collaboration means that everybody at the table is making promises and can deliver with their "Avenger Superpowers." "Avengers: Infinity War" is one of my all-time favorite movies and Black Panther is my favorite superhero. Thanos was a worthy opponent for all of the Avengers and was unable to be defeated. I don't think he will ever be defeated without the combined powers of all of the Avengers.
Each Avenger has a unique superpower—that when needed—they are expected to deliver. In "Infinity War," Black Panther wasn't called on to help the fight against Thanos until the middle of the movie. Why so late? Because they didn't have a problem that required his expertise.
We are all on earth for a purpose. We all have a calling to fulfill. My earthly talent is coaching. My spiritual gifts are discernment, hospitality and leadership.
I'm a tiller, one who prepares the ground for the others to plant, nurture and harvest:
Tillers convict.
Planters teach.
Nurturers support.
Harvesters reap.
Coaches need to collaborate because our game needs change. That change must have a good starting point and clear next steps. Here's my Critical Change Construct:
Conviction
Connection
Consensus
Collaboration
Change
Our game needs people who can advise, facilitate and coach professionally. Each Avenger has a superpower. To be a coaching superhero, you need to have these 10 qualities:
Analytics
Strength coaches
Sports medicine
Mental health coaches
Visual training
Video analysis
Nutritionist
Competitive games
Training equipment
Support from family and friends
Pitches are questions that I serve to coaches. Here are four fastballs for you:
Is coaching your calling?
Who is your favorite Avenger? Why?
Are you a tiller, planter, nurturer or harvester? How do you know?
What are your earthly talents and spiritual gifts?
Remember: Intelligence tops being smart.
For more information, visit www.diamonddirectors.com today. Also, check out our Digital Magazine.
---
C.J. Stewart has built a reputation as one of the leading professional hitting instructors in the country. He is a former professional baseball player in the Chicago Cubs organization and has also served as an area scout for the Cincinnati Reds. As founder and CEO of Diamond Directors Player Development, C.J. has more than 12 years of player development experience and has built an impressive list of clients, including some of the top young prospects in baseball today. If your desire is to change your game for the better, C.J. Stewart has a proven system of development and track record of success that can work for you.