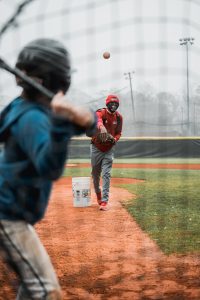 Struggle is the process of trying to reach a goal while experiencing setbacks because of mistakes made out of ignorance. People don't like to struggle. But consider this: When you are struggling, remind yourself that at least you aren't stupid. Stupid people do stupid things and win stupid prizes.
The bridge between being stupid and struggling is humility. Humility is not about thinking less than of yourself; it's about thinking of others more than yourself.
As my Diamond Directors students know, there are seven parts of the swing. It takes 3,000 reps to build a habit. That's 21,000 reps. It also takes another 21,000 reps to convert a habit to a skill.
Stance/Load
Timing
Tempo
Tracking
Approach
Contact
Extension/Finish
I know it's tough to remain strong when you're struggling. But you're only struggling when you're experiencing setbacks because of those mistakes made out of ignorance.
If you haven't performed reps by the tens of thousands between February and April, you will not have success. And if you do have success, it's either because your competition isn't any good or you are lucky.
You cannot develop skills without training under stress. And as we know, skills pay the bills.
The Atlanta Braves' Freddie Freeman is a skillful hitter. Nobody talks about his talent or his good habits anymore. Commentators talked about his talent when he was playing Travel Baseball and his habits while he moved through the Minors.
Can you develop skills regardless of your age? You sure can. How? By during your favorite drills under duress.
To help keep your skills sharp, we have introduced a new type of Skill Build—our Virtual Skill Build, where I can help you develop hitting skills anytime, anywhere using anything.
Remember: Intelligence tops being smart.
For more information, visit www.diamonddirectors.com today. Also, check out our Digital Magazine.
C.J. Stewart has built a reputation as one of the leading professional hitting instructors in the country. He is a former professional baseball player in the Chicago Cubs organization and has also served as an associate scout for the Cincinnati Reds. As founder and CEO of Diamond Directors Player Development, C.J. has more than 22 years of player development experience and has built an impressive list of clients, including some of the top young prospects in baseball today. If your desire is to change your game for the better, C.J. Stewart has a proven system of development and a track record of success that can work for you.