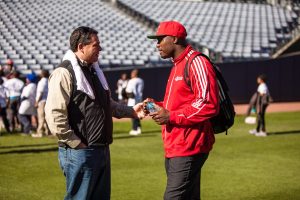 If you want to be competitive this spring, you'll need to embrace the three C's:
Context – the how
Content – the what
Contest – the when
My definition of competition has nothing to do with winning and losing. It has everything to do with your opponent making you better, and vice-versa.
Context is the set of circumstances that surround a situation. It has everything to do with how you think. If you don't know how to think, forget about getting lots of hits. You've heard that baseball is a game of failure so many times that it should be making your head hurt. It's true. The phrase is overly used by coaches.
Here's how my hitters are trained to process failure:
Failure – I did something wrong
Adjustment – I did something different
Success – I did it right the first time
Repeat – I did it right 6 out of 10 times
Failure isn't final. Failure is feedback. Failure should tell you what to do next. What should you do after you fail? Make an adjustment.
You're failing backwards when you make adjustments. You're failing forward when you make adjustments.
Content is what you must do in order to get a hit. The fundamentals of hitting is the "what." My hitters are trained to develop skills for the seven parts of the swing:
Stance/Load
Timing
Tempo
Tracking
Approach
Contact
Extension/Finish
It takes 3,000 reps to build a habit and another 3,000 to build a skill. That's 21,000 reps to build a habit and 21,000 to convert the habit to a skill. A habit is something you repeatedly do without thought, while a skill is something you repeatedly do without thought under stress.
Here are three content conversations:
"Get to a good load position."
"Be on time to hit the fastball."
"Extend through the ball son."
That's all content. Without context, it's just talk.
The contest is the baseball game. Your success in the game is based on context (the how) and content (the what). Great coaches focus on context first, while games prepare you for the next practice and the next practice prepares you for the game.
Remember: Intelligence trumps being smart.
For more information, visit www.diamonddirectors.com today. Also, check out our Digital Magazine.
BIO
C.J. Stewart has built a reputation as one of the leading professional hitting instructors in the country. He is a former professional baseball player in the Chicago Cubs organization and has also served as an area scout for the Cincinnati Reds. As founder and CEO of Diamond Directors Player Development, CJ has more than 12 years of player development experience and has built an impressive list of clients, including some of the top young prospects in baseball today. If your desire is to change your game for the better, C.J. Stewart has a proven system of development and track record of success that can work for you.