It's a dream every young player has – they want to play in The Show. They want to be a Major Leaguer. The questions is, "Do you have what it takes?
Being a Major Leaguer doesn't mean you have to use the best equipment out there. You don't have to play on the best travel team around. The key is to employ a proven methodology of development. Who you use as your private hitting coach only has merit if you reach your full potential.
Here are three "lost" things you must have to become a Major Leaguer. These are how lasting MLB hitters A.C.T. – Athleticism, Character and Thinking.
Athleticism
If you participate in a sport, you're an athlete. If you can figure out how to achieve success in the sport with only basic information, you possess athleticism.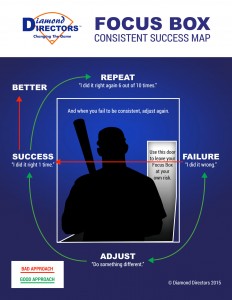 Athleticism is a lost heart, mainly because most kids today lack the ability to critically think. I will go deeper on this later. Athleticism is all about figuring "it" out. At 39, I have never put on ice skates. I assure you that I still possess enough athleticism to figure out how to skate on that ice in short order.
When I was a kid, I had to figure out how to hit the baseball on my own. My coaches didn't have professional baseball playing experience and they didn't frequent coaches clinic. They had lots of encouraging words and expected me to hit the ball hard.
By the grace of God, I went from playing baseball as a kid in the inner city of Atlanta all the way to playing in the minor leagues in the Chicago Cubs organization.
Character
Ethics is doing what must be done, while morals is doing what should be done. Character is based on your core values. Your character demonstrates who you really are. The core values that govern my life is excellence, humility, integrity, loyalty, stewardship and teamwork.
What are the core values that govern your life?
I can assure you that you won't become a long lasting Major League Baseball player without at least these six core values. Success can get you there for a short time, but you won't last.
Several scouts I know say they want baseball players that possess high character. I believe them, but oftentimes, poor character will be overlooked if the player has premium athleticism, bat/foot speed and power. Charism can get you to professional baseball status but only character will keep you there.
Tip of the Week: Durabands 
Thinking
Knowing how to critically think is a skill born out of ignorance (not knowing), kids spend most of their time figuring out how to hit a ball, while failing to learn how to think. You can't learn if you can't think.
Here is a simple four step process of strategic thinking that I have used to develop several Major League hitters.
Failure – I did it wrong.
Adjustment – I did something different.
Success – I did it right one time.
Repeat – I did it right again six out of 10 times.
Successful Major Leaguers can and will make adjustments quicker than everyone else.
The good news is that you can possess athleticism, character and the ability to think at a high level right now, regardless of your current age. The Major Leagues will be your destination because you have what it takes. Making it does require access to scouts advocates, but don't subscribe to the notion that playing in the MLB is only for lucky individuals who were born to do so.
Remember: Intelligence trumps being smart.
For more information, visit www.diamonddirectors.com today. Check out our latest Digital Magazine.
BIO
C.J. Stewart has built a reputation as one of the leading professional hitting instructors in the country. He is a former professional baseball player in the Chicago Cubs organization and has also served as an area scout for the Cincinnati Reds. As founder and CEO of Diamond Directors Player Development, CJ has more than 12 years of player development experience and has built an impressive list of clients, including some of the top young prospects in baseball today. If your desire is to change your game for the better, C.J Stewart has a proven system of development and track record of success that can work for you.