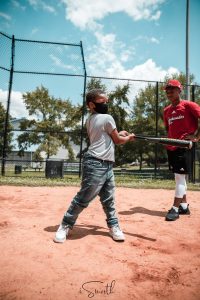 "The wrong script will always produce the wrong results." So you were slumping and now you are having success at the plate again. Why? If you do not know the answer, it is because of the twins — Luck and Chance.
Slumps start and they stop. In life, and on and off the baseball field, the desired outcome is success, yet slumps are inevitable. So what bridges the gap between the two?
Survival.
Slumps happen to the best of us. A slump is declined failure backward. You cannot control what you are not aware of. Awareness must come first, followed by making adjustments and action.
Awareness
Adjustments
Action
Negative causes of declined failure backward include arrogance, a negative attitude and negative action.
Arrogance — because you are insecure and you've achieved some undeserved success
Attitude — negative because you are no longer achieving the unearned success
Action — little to none because you don't feel that you need to do anything different other than achieve unearned success
Positive causes of declined failure backward. It is simply a part of the game and experience is a great teacher.
Survival is the persistent existence of work ethic despite failure that leads to success.
Here is an important question that you should be asking yourself before diagnosing your current condition as a slump:
What was my specific hitting goals before the season started?
This is an important question because if you did not have a specific goal, you were planning for success to happen by luck and chance.
When you feel your slump coming on, remember three thing:
Slumps happen.
Show some grit and survive.
Success feels better when earned.
To help keep your skills sharp, we have introduced a new type of Skill Build—our Virtual Skill Build, where I can help you develop hitting skills anytime, anywhere using anything. Check it out.
Remember: Intelligence tops being smart.
For more information, visit www.diamonddirectors.com today. Also, check out our Digital Magazine.
---
C.J. Stewart has built a reputation as one of the leading professional hitting instructors in the country. He is a former professional baseball player in the Chicago Cubs organization and has also served as an area scout for the Cincinnati Reds. As founder and CEO of Diamond Directors Player Development, C.J. has more than 12 years of player development experience and has built an impressive list of clients, including some of the top young prospects in baseball today. If your desire is to change your game for the better, C.J. Stewart has a proven system of development and track record of success that can work for you.