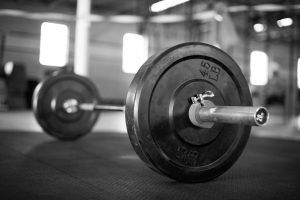 By Jay Hughes
One of the most widely known, but often overlooked strategies for playing and staying in the Big Leagues, is to work "The Big Three." In case you're wondering, "The Big Three" are your chest, your back and your legs.
Systematically working these large muscle groups is key to dramatically increasing strength. In order to take your training regime to the next level, you must get back to basics.
It's time to reintroduce yourself to flat bench press, pull-ups and deadlifts. Granted, they may not be the trendiest exercises on the gym circuit, but they're definitely the greatest.
For maximum results, focus on rep range. I recommend you perform all of your reps within two specific ranges: 4-6 to target myofibrils and 12-15 to target mitochondrial.
Each set should be done to failure, so choose your weight accordingly. For example, if you complete your set and it falls above the rep range (you aimed for six and failed at 10), that's an indication you must increase your weight.
Conversely, if you aimed for six and failed at three, that's an indication you must decrease your weight. There's no rocket science involved here. It's critical that you commit to work out within the prescribed rep ranges, because the right exercises and the wrong rep range is like a righty suddenly trying to bat left. It's possible, but highly ineffective.
In the attached videos, I will demonstrate the proper form and rep ranges for each exercise.
In the flat bench press segment, you'll notice a black stretch band around my arms and across my chest. The device is called a "Sling Shot." Its purpose is to isolate the pectorals and preserve the anterior deltoids by constraining the elbows.
Pull-ups are pretty straight forward, but don't forget to complete the full range of motion.
Finally, form is critical on the deadlift. Be sure to keep your back straight and your arms slightly bent.
Check out the videos, and then do the exercises. Your competition is gaining on you.
Remember: Intelligence trumps being smart.
For more information, visit www.diamonddirectors.com today. Also, check out our Digital Magazine.
BIO
Jay Hughes is the founder of Committed Fitness, which has one simple mission – Take Your Life Back. Committed Fitness partners with athletes who want to gain the much needed edge to take their training to the next level. For more information, you can reach him at 678-879-9814 or via email at jaydhughes75@gmail.com