Skills pay the bills. I know you have heard this phrase countless times, but do you really know what it means? The reason why Major League hitters get paid so much money is because they can skillfully do what fans can't. Fans like me are empowered by watching skilled people perform.
Skills are things that we do repeatedly without thought while under stress. It takes 3,000 reps per part of the swing to develop a skill. Diamond Directors clients know that there are seven parts of the swing. That's 21,000 reps.
Stance/Load
Timing
Tempo
Tracking
Approach
Contact
Extension/Finish
Study the illustration below to see what skills elite hitters must have in order to expect to have a .400 batting average.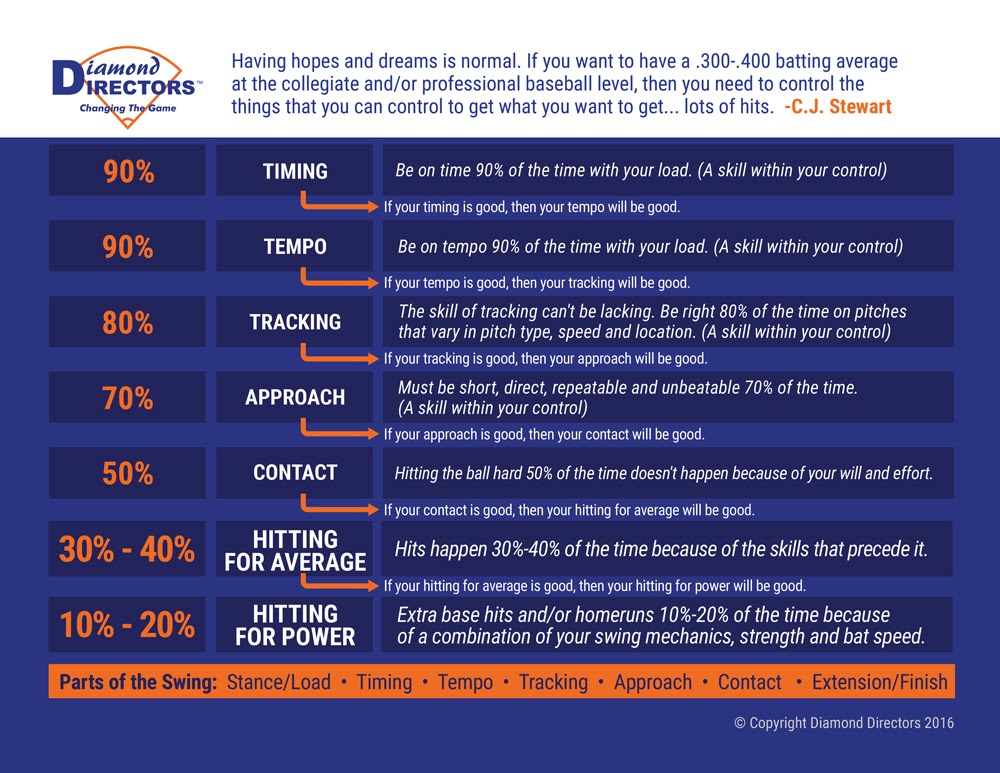 Timing is a big time skill to develop. Check out this video to learn more about timing, why you need it, how to get it and keep it as a skill.
February through April is the best time to develop skills so you better get going because skills pay the bills.
Remember: Intelligence tops being smart.
For more information, visit www.diamonddirectors.com today. Also, check out our Digital Magazine.
C.J. Stewart has built a reputation as one of the leading professional hitting instructors in the country. He is a former professional baseball player in the Chicago Cubs organization and has also served as an area scout for the Cincinnati Reds. As founder and CEO of Diamond Directors Player Development, C.J. has more than 12 years of player development experience and has built an impressive list of clients, including some of the top young prospects in baseball today. If your desire is to change your game for the better, C.J. Stewart has a proven system of development and track record of success that can work for you.