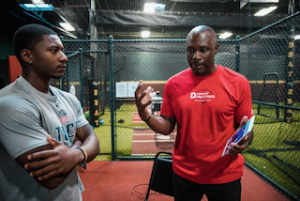 Christmas is the time we celebrate the birth of Jesus Christ. It also is a time that I focus on rest and reflection. I have an Apple Watch that oftentimes reminds me throughout the day to breath. I go so hard sometimes that I fail to simply breathe, which is essential to living.
Izey Victoria Odiase once said, "Relax, Recharge and Reflect. Sometimes it's okay to do nothing." I have a hard time doing nothing because I have Attention Deficit/Hyperactivity Disorder (ADHD). One of the major benefits of resting for me is that it allows me to reflect on what I need to do to improve as a husband, father, Coach, etc.
My personal mission in life is to be significant by serving millions and bringing them into a relationship with Christ, starting with my wife, Kelli, and our daughters, Mackenzi and Mackenna.
My life vision is that a legion of men and women who I have coached will become positive change-agents in America and throughout the world.
Vision is what we can see in our mind while faith is a belief that God will do things for us beyond what we can think, see, imagine, etc.
I pray that you are intentional about getting rest and reflection in these final days of 2020. As you do, ask yourself the following:
What do you dream about?
What do you worry about?
What do you cry about?
What brings you joy?
To help keep your skills sharp, we have introduced a new type of Skill Build—our Virtual Skill Build, where I can help you develop hitting skills anytime, anywhere using anything. Check it out.
Remember: Intelligence tops being smart.
For more information, visit www.diamonddirectors.com today. Also, check out our Digital Magazine.
---
C.J. Stewart has built a reputation as one of the leading professional hitting instructors in the country. He is a former professional baseball player in the Chicago Cubs organization and has also served as an associate scout for the Cincinnati Reds. As founder and CEO of Diamond Directors Player Development, C.J. has more than 22 years of player development experience and has built an impressive list of clients, including some of the top young prospects in baseball today. If your desire is to change your game for the better, C.J. Stewart has a proven system of development and a track record of success that can work for you.