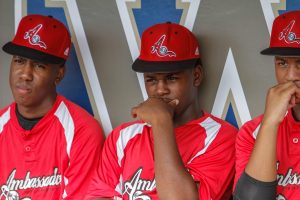 The iPhone is a simple device that resulted from some complicated conversations within Apple. Before the iPhone, you had to have a portable phone, pager, Walkman, wallet and camera in separate pants/shorts pockets.
Today, thanks to the likes of Apple, it's all on one device. That's because Steve Jobs and his team had the courage to disrupt the cellular industry and try something new.
August through October are the months that my hitters must commit to trying new stuff in my Hitting Lab to determine what works – and what doesn't – in order build habits in the winter (November-January). To educate yourself on the exact amount of reps it takes to build a habit, check out last week's blog – "Why Failing Forward Matters to You." 
Here are the five approaches to hitting that my clients must try in the fall:
High Leg
Hand Drop 
Open Stance
Cross Grip
Your Way
One of three things, if not all, are guaranteed to happen in my Hitting Lab during the Assessment Phase August-October. You will:
Think more critically about how to be successful
Become more aware of what works and what doesn't work
Learn about who you really are as a person and hitter
Over coaching has given lots of youth a safety net when they fail. It forces them to stop thinking critically, lack awareness and run from who they can become because it's too hard.
Do you agree or disagree with me? Let me know at Twitter.com/ATBATS.
Are you ready to take your training to the next level? Work on the five approaches in front of your peers and others who you don't know. Most hitters will balk on this challenge, because of their fear to fail in front of others.
Remember: Intelligence trumps being smart.
For more information, visit www.diamonddirectors.com today. Also, check out our Digital Magazine.
BIO
C.J. Stewart has built a reputation as one of the leading professional hitting instructors in the country. He is a former professional baseball player in the Chicago Cubs organization and has also served as an area scout for the Cincinnati Reds. As founder and CEO of Diamond Directors Player Development, CJ has more than 12 years of player development experience and has built an impressive list of clients, including some of the top young prospects in baseball today. If your desire is to change your game for the better, C.J. Stewart has a proven system of development and track record of success that can work for you.