The time to build good habits for timing is now. If you don't, you won't perform at a high level in the spring and summer. November through January is the time that my hitters develop good habits and strength, which gives them time to convert those habits to skills February through April when it counts.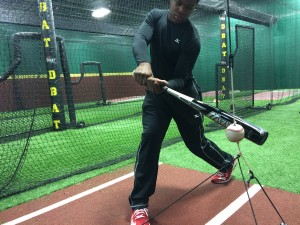 If you're an uncommitted hitter, stop reading now. But if you want to raise your game to the next level, read on because I'm going to provide you with three productive drills that will improve your timing. But first I want to show you show why it's important to have good timing.
Being loaded properly and on time allows you to properly track the pitches thrown
Being loaded properly and on time allows you to initiate a short and direct approach to the ball
Being loaded properly and on time allows you to use your body to produce power rather than "swinging hard" to create power
There is no denying that all pitchers can be categorized as having an above average fastball, average fastball or below average fastball. Each hitter must honestly determine which pitchers falls in each category so that they can be loaded on time to track the pitch and complete the swing. Makes sense? If this doesn't make sense, you won't improve and this blog will cause damage to your development.
The Ball Toss Drill
The ball toss drill requires the proper timing of those parts of your swing that need to work together separately. Did I lose you? Those swing parts include stance/load, approach, contact, extension/finish and supported by timing and tempo. Some coaches will tell you not to worry about those parts of your swing. They want to keep it simpler by saying, "See the ball and hit the ball."
Click here to see this drill in action 
Do this drill 1,000 times this month to develop good timing into a good habit of yours.
CJ's Fact: MLB hitters that get to a good hitting position on time can get a hit 30 percent of the time.
Watch games
Discipline hitters don't watch baseball games for entertainment, they watch them to learn. Most disciplined hitters spend most of their time figuring out how to hit a ball, while elite hitters spend most of their time figuring out when to get ready to hit the ball.
CJ's Fact: Getting loaded on time 90 percent of the time leads to productive at bats 50 percent of the time. Check out this blog to see what I mean.
Find games on MLB TV and commit to watching 1,000 pitches thrown, which will help you determine when the hitters get loaded. This is obviously unreasonable for undisciplined hitters.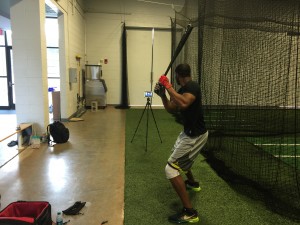 Time a pitcher
It would be great to get 1,000 reps against a live pitcher to develop the skill of timing. Jason Heyward is perfecting his timing skills with me in my Diamond Directors Hitting Lab by using my Dartfish TV channel. I have a pitcher that can pitch anytime and anywhere. There is so much that must happen correctly before you hit a baseball. Timing is one of those "must master" skills that is under-coached. When you get loaded occurs before and determines how well you hit the ball.
Click here to get started with your reps.
CJ's Fact: Success takes time. You must be on time to be successful consistently.
It takes 3,000 reps to develop any habit. If you want to be elite, you must master the skill of timing. You now have three drills to get started on now to master the skill of timing or at least you will know the cause of your struggles in the spring.
Remember: Good hitters don't work hard; they work smart.
For more information, visit www.diamonddirectors.com today.
BIO
C.J. Stewart has built a reputation as one of the leading professional hitting instructors in the country. He is a former professional baseball player in the Chicago Cubs organization and has also served as an area scout for the Cincinnati Reds. As founder and CEO of Diamond Directors Player Development, CJ has more than 12 years of player development experience and has built an impressive list of clients, including some of the top young prospects in baseball today. If your desire is to change your game for the better, C.J Stewart has a proven system of development and track record of success that can work for you.