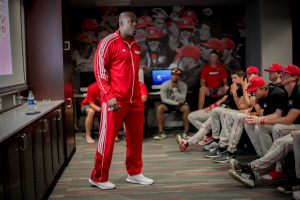 "I think it's the person's conviction that really carries a person." — Shiv Khera
I believe that change starts with conviction. I became a follower of Christ because of conviction. Conviction led me to my marriage. Without conviction, I would not still be coaching professionally for the past 21 years with more than 30,000 hours logged.
I define conviction as "proven guilt of an offense." I started my coaching career at Sports-A-Rama in the East Cobb community because I was looking for an easy way to make money after I retired from playing professional baseball. I didn't have a good work ethic and I was avoiding going back to college. My life wasn't governed by core values.
I found it to be ironic that I was referred to as a professional coach training hundreds of hitters. I couldn't explain how I made it to the professional level as a player. I struggled as a hitter in pro ball so how could I teach anybody else? Rather than being a professional hitting coach, I was a facilitator of drills—at best. Truthfully, I had hitters paying me to teach them before I really knew what I was doing (and charged them full price).
My convicting moment as a coach came around 2004. I had been coaching professionally for six years and my wife, Kelli, challenged me to write down everything that I knew about hitting. This was a great task for me because by then, I begun reading books about hitting, and studying videos and other instructors at Sports-A-Rama.
For several months, I became obsessed with this task. I would write notes while my clients picked up balls. I would pullover while driving home to put my thoughts down on paper. I had a notepad beside my bed so that I could write in the middle of the night.
One of my mentors, Bill McLellan, is a Certified Lean Six Sigma Black Belt. Basically, he can make complex stuff simple. One day he asked me if I'd ever considered putting my knowledge about hitting in writing. I replied with a loud, "Absolutely!!" I emailed him more than 25 pages of bullet points and within 72 hours he gave me my ATBATS methodology, which I have used to develop several Major Leaguers, Olympic gold medalist, and NCAA and high school All-Americans.
Be a part of the solution
As professional instructors, we often complain in private and public about all the things we dislike about the baseball industry. The problem is we want change but we won't change.
Here in Atlanta, our soccer team is the hottest ticket in town. Across the state, baseball is losing athletes to lacrosse and Ultimate frisbee. If you don't believe me, Google it.
Why do we need change and how did we get here?
Baseball got "too big too fast for its britches." Dictionary.com defines the term "too big for one's britches" as "having an excessively favorable opinion of one's abilities, appearance, etc."
I don't recall batting lessons becoming a thing until the late '80s. I received my first hitting lesson with Denny Pritchett. My parents couldn't afford to pay him so my mentor, Thomas Wilson, paid the bill. As a kid coming from the inner city of Atlanta, I couldn't understand why people would pay money to learn how to hit. I made it to that point by hitting rocks with a stick in the backyard.
Here are a few things that made baseball boom in Atlanta.
The East Marietta National League team defeated Dominican Republic in 1983 to win the Little League World Series in Williamsport, Pennsylvania. The team was managed by Guerry Baldwin.
East Cobb Baseball was established in 1985 by Guerry Baldwin with the majority of the players from the LLWS championship team.
Sports-A-Rama indoor batting facility opened in the late 80's in East Cobb. Several of its instructors were former professional baseball players.
The Braves went from worst to first during the 1991 MLB season.
The baseball industry got bigger and bigger with tens of thousands of amateur baseball players playing games on turf fields at LakePoint located in Emerson, Georgia. Nowadays, if you don't invest or have at least $10,000 invested in you per year for baseball development, you can't become an elite hitter.
Pitches are questions that I serve to coaches. Here are my six fastballs.
Why do you coach?
What was your convicting moment as a coach?
What's the difference between a professional instructor and a facilitator?
What frustrates you the most about the baseball industry?
What irritates you the most about this article?
What will be your legacy as a coach?
Remember: Intelligence tops being smart.
For more information, visit www.diamonddirectors.com today. Also, check out our Digital Magazine.
---
C.J. Stewart has built a reputation as one of the leading professional hitting instructors in the country. He is a former professional baseball player in the Chicago Cubs organization and has also served as an area scout for the Cincinnati Reds. As founder and CEO of Diamond Directors Player Development, C.J. has more than 12 years of player development experience and has built an impressive list of clients, including some of the top young prospects in baseball today. If your desire is to change your game for the better, C.J. Stewart has a proven system of development and track record of success that can work for you.