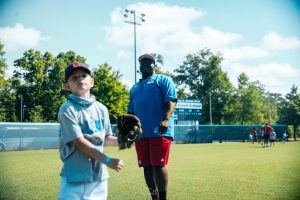 If you boil baseball down to its most important parts, I'd argue it's all about the competition between pitcher and hitter. A hitter must develop a good swing he can repeat as often as the pitcher's ability to repeat his delivery in order to compete.
I recently discussed pitching and hitting with Quinterus Vancant—and learned a lot. Coach Q is a Program Coordinator for L.E.A.D. Inc. (Launch, Expose, Advise, Direct), as well as an Assistant Coach for the Clark-Atlanta University Panthers Baseball Team.
Here's a look at our chat:
What's one thing pitchers are focused on doing to prevent hitters from having success this fall?
Pitchers play a pivotal role in every game. It is the pitcher's job to control the pace of the game. They are focused on increasing the command of the pitches. In order to have real success as a pitcher, you must do more than just throw strikes. The success of pitching is being able hit your target locations.
What's the best way for hitters to beat pitchers in the game?
The matchup between a pitcher and hitter is like a chess match. Every pitch and every swing is a set up for the next. The key to beat good pitching is to never get behind in the count. In order to do that, you have to be in a "control aggressive" mindset. That means your approach has to be smart. You have a pitch and a location that you "cannot" miss.
You cannot swing at balls out of the strike zone if you want to compete as a hitter. When you have two strikes, fight to stay alive. If it's a close pitch, you must put in in play or foul it off. This "control aggressive" mindset will lead to success every time you step into the batters' box.
To help you get ready, Stick Ball is the drill I use to get my hitters ready for success.
To help keep your skills sharp, we have introduced a new type of Skill Build—our Virtual Skill Build—where I can help you develop hitting skills anytime, anywhere using anything.
Remember: Intelligence tops being smart.
For more information, visit www.diamonddirectors.com today. Also, check out our Digital Magazine.
C.J. Stewart has built a reputation as one of the leading professional hitting instructors in the country. He is a former professional baseball player in the Chicago Cubs organization and has also served as an associate scout for the Cincinnati Reds. As founder and CEO of Diamond Directors Player Development, C.J. has more than 22 years of player development experience and has built an impressive list of clients, including some of the top young prospects in baseball today. If your desire is to change your game for the better, C.J. Stewart has a proven system of development and a track record of success that can work for you.