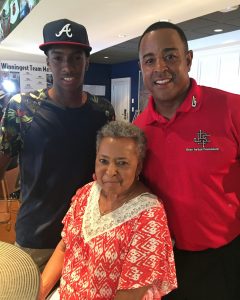 Editor's Note: This is the second blog in our two-part series on the six signs of great travel team baseball parents.
In our last blog, we examined why coaches often choose to isolate themselves from players and parents for myriad reasons. I believe there are three reasons coaches seem to do this:
Ignorance – Lack of knowledge
Arrogance – Making claims of superior importance
Intolerance – Unwillingness to accept views, beliefs and behaviors that differ from one's own
If you're want to find the perfect travel team baseball parents, there are six definable characteristics they have. In our first blog, we discussed the first three, including (1) they love their sons; (2) they demand respect; and (3) they ask open-ended questions on the front end. Following are the other three signs you should look for:
4. They hold coaches accountable all the time.
Coaches will go to great lengths to recruit your son to be on the team, followed by a travel schedule and invoice that causes your family to alter their lifestyle. Yet, if you miss practice days or a payment, you must be disciplined and ridiculed. Stretch us as coaches. Make us grow. Make us live up to our often self imposed hype. I'm grateful to the parents who have pushed me.
A really good coach should be held accountable for at least these three things:
Explaining why he selected your son to be on the team.
Explaining what he feels is your sons full potential in baseball.
Amount of playing time your son should receive throughout the season.
5. They force coaches to make and fulfill guarantees
I'm now a well accomplished coach, because of my new found relationship with Christ. To that end, I now know three things about myself:
My calling in life is to be significant by serving millions and bringing them into a relationship with Christ, starting with my wife, Kelli, and our daughters Mackenzi and Mackenna.
My spiritual gift is discernment (ability to judge).
My earthy talent is coaching (taking people from one place to their full potential).
Coaches that understand their calling in life, their spiritual gift and their earthly talent feel comfortable with making guarantees.
They should be able to guarantee at least these three things:
How they will remove your son if he's not working out for the team.
Minimum amount of playing time for each player for the entire season.
Scheduling games and creating an atmosphere that will help your son develop. The scoreboard doesn't determine development for me. This is an effective rule for scheduling games for development.
25% of games against below average pitching
25% of games against average pitching
50% of games against above average pitching
These games, followed by a disciplined culture of learning, are magical. Oftentimes, the best game day coach is a silent coach. Practices prepare you for the next game, and that game prepares you for the next practice. Here are three questions that should be asked by coaches to players after games to ensure that development is happening:
What's one thing that you did wrong in the game today?
What adjustment (doing something different not limited to being right) should you make?
Are you willing to be patient (waiting without anger) until you do it right?
6. They trust the talent of their son
You aren't stupid (lacking intelligence or common sense). You may not understand the recruiting process system, but you aren't stupid. Remember that you have a career that enables you to earn money to pay baseball fees. You aren't a baseball expert, but you know if your son has baseball talent or not. That said, you don't have to be disrespected by a coach or wait weeks for answers to your heartfelt open-ended questions. Trust the talent of your son enough to know that if you put him in the right environment, he will thrive.
Driven by a good coach, the right environment looks like this:
A coach that will tell your son that he loves him regardless.
A coach that will respect your family without you having to demand it.
A coach that will honestly answer your open-ended questions within a reasonable time.
A coach you can hold accountable for doing what he says and, who also will humbly admit when he is wrong and needs help.
A coach that can ask the right questions before and after games, creating/maintaining a learning environment.
A coach that is willing to make and fulfill basic, yet important guarantees.
Remember, travel baseball hasn't been around forever. There were good, Hall of Fame player, who had to learn to think and be gritty on their own. And while your son will learn these traits and what it takes to succeed, having a strong supporting cast at home, and on the field, matters.
Remember: Intelligence trumps being smart.
For more information, visit www.diamonddirectors.com today. Also, check out our Digital Magazine.
BIO
C.J. Stewart has built a reputation as one of the leading professional hitting instructors in the country. He is a former professional baseball player in the Chicago Cubs organization and has also served as an area scout for the Cincinnati Reds. As founder and CEO of Diamond Directors Player Development, CJ has more than 12 years of player development experience and has built an impressive list of clients, including some of the top young prospects in baseball today. If your desire is to change your game for the better, C.J Stewart has a proven system of development and track record of success that can work for you.