Editor's Note: This is the third part in a series of blogs designed to understand what is needed – both physically and mentally – to get a scholarship to play college baseball.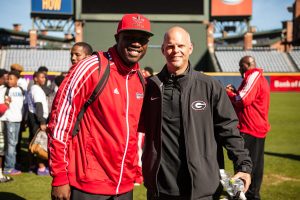 During the course of our series on "How to Earn a Baseball Scholarship," we examined the importance of having the right approach. In my drive to help you fulfill your dream, I have broken the process into a seven-point plan.
In the first two blogs, I identified the first steps in our plan – developing good habits, converting habits to skills, playing on the right teams and the important role being a good student plays in the process. In the third part, I will cover why it is important to attend college camps.
This section is pretty cut and dried. Do you know why bank robbers rob banks? Because that's where the money is. If you want to earn a scholarship, you must attend at least one to three college camps, particularly the programs you are most interested in.
Sure, it's great to be seen by college coaches at tournaments, but most of the top tournament games are played at multiple locations scattered over several miles. Either you have to be skillful enough for the coach to evaluate you or the opposing team has studs.
Here are the three steps that I recommend when attending camps, assuming you have good habits and skills.
You simply are attending this camp to develop an awareness of other players attending the camp, what the coach teaches, how the coach teaches and to find out specifically what he feels you must improve on for your second attendance.
You've hopefully worked with a skill coach to make improvements from the first camp. Now you are here to showcase the adjustments you made. Make it a point before you leave the camp to ask the coach how you did on the adjustments you made.
You are attending this camp to get a scholarship offer. This is more than a mindset or wishful thinking. This is based on the habits and skills you've developed in practice and the feedback you received from the games you played. This is based on having the grades to get into the school and the weeks of initiated conversation with your coach.
Remember: Intelligence trumps being smart.
For more information, visit www.diamonddirectors.com today. Also, check out our Digital Magazine.
BIO
C.J. Stewart has built a reputation as one of the leading professional hitting instructors in the country. He is a former professional baseball player in the Chicago Cubs organization and has also served as an area scout for the Cincinnati Reds. As founder and CEO of Diamond Directors Player Development, CJ has more than 12 years of player development experience and has built an impressive list of clients, including some of the top young prospects in baseball today. If your desire is to change your game for the better, C.J Stewart has a proven system of development and track record of success that can work for you.