If you're reading this blog, welcome to 2014. It's a new year filled with new promises. With age comes wisdom. So, will another year wiser help you make better decisions?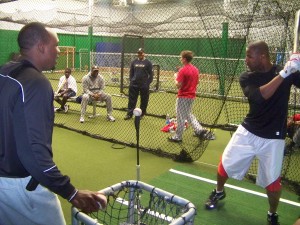 My New Year's resolution is trust. I must trust my talent and the people around me to achieve the ultimate goal of being recognized as "The Most Effective Swing Coach in the World." I want this designation. I can feel it. Achieving this designation will help me serve millions of young players. Even though there are a lot of talented coaches and scores of players with big dreams, we tend to under serve them everyday because our industry is so fragmented.
Trust means you can believe who I am and what I can do for you. Check out my credentials at DiamondDirectors.com.
In the vein of trust, here are a few other "one word" designations that can help you achieve your full potential.
Excellence
To be excellent is as simple as doing what is expected of you. What do your parents, siblings, teachers and coaches expect of you? Find out what it is and do it. The notion of giving 110 percent effort is unnecessary. Master giving things 100 percent and live there. That's the secret to consistency. Be excellent.
Loyalty
Loyalty is earned every day. Before you can be loyal to others, prove it to yourself first.
Humility
Most of us lack self-confidence, so we work hard to be better than everyone else. It makes us feel good about ourselves. Every great person has a team of people around him. First comes pride, and then the fall. Humble yourself.
Remember: Good hitters don't work hard; they work smart.
For more information, visit www.diamonddirectors.com today.
BIO:
C.J. Stewart has built a reputation as one of the leading professional hitting instructors in the country. He is a former professional baseball player in the Chicago Cubs organization and has also served as an area scout for the Cincinnati Reds. As founder and CEO of Diamond Directors Player Development, CJ has more than 12 years of player development experience and has built an impressive list of clients, including some of the top young prospects in baseball today. If your desire is to change your game for the better, C.J Stewart has a proven system of development and track record of success that can work for you.