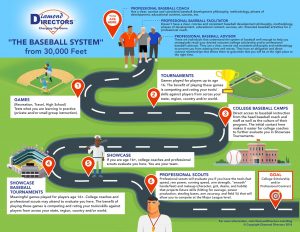 I live in Atlanta and we have a lot of traffic. This gives me lots of time to listen to my books on Audible. When I travel, I always use the Waze navigation app. According to Wikipedia, Waze provides turn-by-turn navigation information and user-submitted travel times and route details, while downloading location-dependent information over a mobile telephone network.
I believe that hitting coaches can learn a lot about coaching from the Waze app. Here are some suggestions:
Provide a downloadable app
An app is simply an application. Recommending an app means that you understand how your clients learn. There are three major learning styles:
Visual — learning by seeing
Auditory — learning by hearing
Kinesthetic — learning by doing
Other downloadable apps needed by hitters who want to become elite include:
Passion
Grit
Commitment
Discipline
Listening
Thinking critically
Deep practice
Asking "Should Ask Questions" (SAQs) rather than "Frequently Ask Questions" (FAQs)
 S.M.A.R.T. Goal-Setting
Tweet this: Learn how you learn so that you don't have to accidentally learn how to hit.
Communicate turn-by-turn navigation
Navigation is the process of accurately finding one's position and planning and following a route.
Does your hitting coach know the highest level you want to compete as a hitter?
Does he know where you are right now?
Does he have a turn-by-turn navigation for you?
Tweet this: "If you don't know where you are going, any road will get you there." — Lewis Carroll
Be held accountable for user-submitted travel times
Coaches will often say something trite like, "Success takes time." That's an obvious statement. Auto mechanics are obligated to tell customers what's wrong with our vehicle: What will it cost and when will it be ready for pickup before you pay? I'd expect the same from a doctor before I allow him to start operating on me.
Your hitting coach should be held accountable for how much time it takes for you to reach your goal (See app No. 9 above for S.M.A.R.T. Goal-Setting).
Do you want to bat .400 this season? If you answered yes, you must:
— Get to a load position on time and on tempo 90% of the time
— Track pitches successfully 80% of the time
— Repeat a short and compact approach 70% of the time, which will:
allow you to hit the ball hard 50% of the time
allow you to get a hit 30-40% of the time
allow you to hit for power 10-20% of the time
As we have studied, there are seven parts of the swing. It takes 3,000 reps per part to build a habit (November-January). That's 21,000 reps. It takes another 21,000 reps to convert a habit to a skill (February-April). The seven parts of the swing include:
Stance/Load
Timing
Tempo
Tracking
Approach
Contact
Extension/Finish
Tweet this: Passion, grit and commitment leads to goal fulfillment.
Remember: Intelligence tops being smart.
For more information, visit www.diamonddirectors.com today. Also, check out our Digital Magazine.
---
C.J. Stewart has built a reputation as one of the leading professional hitting instructors in the country. He is a former professional baseball player in the Chicago Cubs organization and has also served as an area scout for the Cincinnati Reds. As founder and CEO of Diamond Directors Player Development, C.J. has more than 12 years of player development experience and has built an impressive list of clients, including some of the top young prospects in baseball today. If your desire is to change your game for the better, C.J. Stewart has a proven system of development and track record of success that can work for you.