Brandon will reach "The Show" because his makeup – discipline, work ethic, resilience, etc. – has been tested.
When the final name was called in the 2012 MLB draft, our Diamond Directors' program had three players drafted in the top 10 rounds. Our highest selection was Brandon Thomas, a switch-hitting outfielder from ACC powerhouse Georgia Tech. The Pittsburgh Pirates drafted him in the fourth round.
I remember working with Brandon for the first time when he was 12. He was still playing recreation baseball. After working with him a few times, I predicted he would be a Major Leaguer.
Brandon had three things that lead me to believe he'd reach "The Show."
Athleticism – Brandon was voted the "Best Athlete" of the 2012 MLB Draft. He has all the tools in the toolbox – running, throwing, defense, hitting ability and hitting for power. When he gets off the bus, you'll know who Brandon is.
Aptitude – His ability to learn and apply what he has learned is off the charts. A graduate of Pace Academy High School in Atlanta, Brandon was selected by the Capital One Academic All American team. While at Tech, he maintained a 3.66 GPA in management. You don't carry that kind of GPA at a university like Georgia Tech without a high level of aptitude.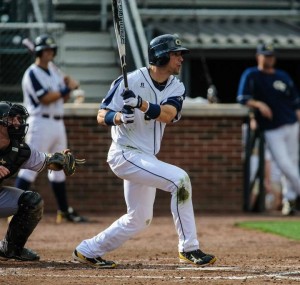 Passion – Brandon's love for the game is evident whenever he steps on the field. And when you combine this with his athleticism and aptitude, you have a special player that can compete at the professional level. Getting drafted is a means to an end, with the end being the Major Leagues.
Brandon will reach "The Show" because his makeup – discipline, work ethic, resilience, etc. – has been tested.
See, Brandon wasn't fortunate enough to be recognized by all those baseball magazines and scouting networks. He joined the East Cobb baseball program and showcase circuit later than most young players do. But once he was on the scene, he quickly found he was just as good as some of the game's most notable young players. His consistency as a high school player earned him a baseball scholarship to Tech. As a high school player, he also was drafted in the 37th round by the Colorado Rockies.
As a integral part of Brandon's baseball development since 2003, I can tell you that he has fought for every bit of recognition he has had received. From Day 1, our process included attending Georgia Tech, being drafted and playing this game at the highest level. He also is committed to inspiring others to do the same.
Join me in following Brandon in his professional baseball quest. I promise you that it won't be long before he's knocking at the door of the "The Show."
That's the Diamond Directors' way.
BIO:
C.J. Stewart has built a reputation as one of the leading professional hitting instructors in the country. He is a former professional baseball player in the Chicago Cubs organization and has also served as an area scout for the Cincinnati Reds. As founder and CEO of Diamond Directors Player Development, CJ has more than 12 years of player development experience and has built an impressive list of clients, including some of the top young prospects in baseball today. If your desire is to change your game for the better, C.J Stewart has a proven system of development and track record of success that can work for you.