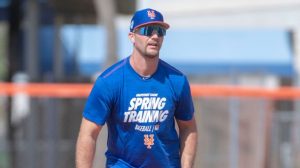 If you don't know who Peter Alonso is, look him up. If you know who he is, you know what I know. He is a future MLB All-Star and Silver Slugger. I have high hopes for him.
I was privileged to start working with Peter as one of his hitting coaches when he was a rising high school senior. I was on the coaching staff of the PONY team led by Derek Simmons at the annual USA Baseball Tournament of Stars.
Peter was raw, and that's not a bad thing. Bats start out as trees.
How to be a good hitter had already been planted and rooted in his conviction. Peter approaches hitting with passion.
I was able to serve in a role as a nurturer. I've been developing elite hitters for 21 years and I knew quickly that he would become a MLB hitter. He matured in the SEC as a Florida Gator, but we never discussed what it would take to become a great college hitter. It was all about preparing him to do what he's doing now.
I believe that he will become a consistent All-Star, Silver Slugger recipient and be an Ambassador for baseball, modeling the benefits of living a life of passion, purpose and grit.
Remember: Intelligence tops being smart.
For more information, visit www.diamonddirectors.com today. Also, check out our Digital Magazine.
---
C.J. Stewart has built a reputation as one of the leading professional hitting instructors in the country. He is a former professional baseball player in the Chicago Cubs organization and has also served as an area scout for the Cincinnati Reds. As founder and CEO of Diamond Directors Player Development, C.J. has more than 12 years of player development experience and has built an impressive list of clients, including some of the top young prospects in baseball today. If your desire is to change your game for the better, C.J. Stewart has a proven system of development and track record of success that can work for you.