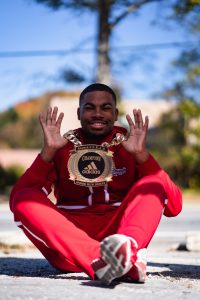 What's the best way to respond to failure? I believe it starts with having a good attitude, being aware and then making adjustments. The five tenets of responding to failure you can follow include:
Attitude – How you act
Awareness – How you think
Adjustments – How you respond
Aptitude – How you correct
Athleticism – How you make things happen
Making an adjustment means you will do something different as a result of failing, which can and will lead to a successful outcome. This definition reminds me that I don't have to bear the burden of being perfect. It also gives me permission to take healthy risks.
I started playing baseball around 8 years old. I learned quickly that hitting pop-ups was a bad thing. I loved watching Tony Gwynn get ground ball base hits in the late 80s, while Gary "The Sarge" Matthews would crush home runs for my favorite MLB team, the Chicago Cubs.
I wish I knew that I had the freedom to try to hit home runs by hitting pop-ups and making adjustments by hitting ground-balls. I believe that if a hitter can master the ability to make adjustments, he can compete as a hitter at the highest collegiate level.
That process requires a lot of reps and a coach committed to creating and maintaining a culture of making adjustments after failure has happened.
How do you feel about this blog? What would you add/takeaway from it?
To help keep your skills sharp, we have introduced a new type of Skill Build—our Virtual Skill Build—where I can help you develop hitting skills anytime, anywhere using anything.
Remember: Intelligence tops being smart.
For more information, visit www.diamonddirectors.com today. Also, check out our Digital Magazine.
C.J. Stewart has built a reputation as one of the leading professional hitting instructors in the country. He is a former professional baseball player in the Chicago Cubs organization and has also served as an associate scout for the Cincinnati Reds. As founder and CEO of Diamond Directors Player Development, C.J. has more than 22 years of player development experience and has built an impressive list of clients, including some of the top young prospects in baseball today. If your desire is to change your game for the better, C.J. Stewart has a proven system of development and a track record of success that can work for you.