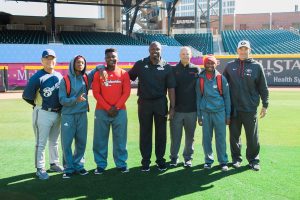 A habit is something that can be done repeatedly without thought. A habit can be broken down into three parts:
A cue
A routine
A reward
Common reasons that hitters struggle to develop good hitting habits is as easy as solving A, B, C and D:
Attitude
Blameless
Commitment
Discipline
Attitude
Our attitude is simply the way we act. Nobody is perfect, so nobody will ever be able to act good all the time. Awareness allows you to check yourself when you're having a bad attitude so that you can make the adjustment.
Without a good attitude, developing good hitting habits that will last is likened to trying to drive a car without gas.
Blameless
To be blameless is to be without guilt. Fortunately for baseball players, you only need to get a hit three times out of 10 at the collegiate and professional levels to be considered among the best. There are lots of mistakes to be made and learned from as a hitter in baseball.
The blameless hitters are the ones who struggle the most to develop good hitting habits because they are often blaming others and circumstances for their failure.
Commitment
Commitment is a promise that you make to yourself. There are seven parts to the swing and it takes 3,000 reps to build a habit. That's 21,000 reps:
Stance/Load
Timing
Tempo
Tracking
Approach
Contact
Extension/Finish
Discipline
To be disciplined is to do things you don't want to, but need to do. It takes a lot of discipline to develop hitting habits. It also takes discipline to complain and blame when things aren't going our way.
How do we combat these in order to develop good hitting habits? Using E, F, G, and H:
Energy – it's more valuable than time
Focus – deliberate and unwavering attention to the task at hand
Grit – the relentless pursuit of purpose
Help – you can never get enough of it from the right people who are present for the right reasons
For more information, visit www.diamonddirectors.com today. Also, check out our Digital Magazine, Changing the Game.
______________________________________________________________________________
C.J. Stewart has built a reputation as one of the leading professional hitting instructors in the country. He is a former professional baseball player in the Chicago Cubs organization and has also served as an area scout for the Cincinnati Reds. As founder and CEO of Diamond Directors Player Development, CJ has more than 12 years of player development experience and has built an impressive list of clients, including some of the top young prospects in baseball today. If your desire is to change your game for the better, C.J. Stewart has a proven system of development and track record of success that can work for you.