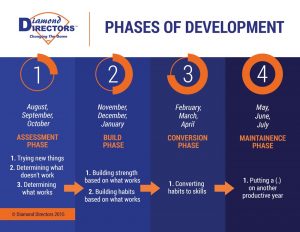 The Georgia High School Baseball State Championships start May 20. This is where the best hitters will be maintaining their skills. The championship rounds are the final part of the high school baseball's four seasons.
To maintain something is to keep it. In order to keep it, you first have to get it. This month is not the time to be gaining skills; it's the time to maintain them. One of the skills that great hitters have and maintain is the ability track pitches. Check out my Track-Attack Skill Build Drill to see how it is done.
As we know, it takes 3,000 reps to build a habit, another 3,000 reps to convert the habit to a skill, and another 3,000 reps to maintain the skill.
Commit this to memory: Skills pay the bills.
Remember: Intelligence tops being smart.
For more information, visit www.diamonddirectors.com today. Also, check out our Digital Magazine.
---
C.J. Stewart has built a reputation as one of the leading professional hitting instructors in the country. He is a former professional baseball player in the Chicago Cubs organization and has also served as an area scout for the Cincinnati Reds. As founder and CEO of Diamond Directors Player Development, C.J. has more than 12 years of player development experience and has built an impressive list of clients, including some of the top young prospects in baseball today. If your desire is to change your game for the better, C.J. Stewart has a proven system of development and track record of success that can work for you.