For most amateur hitters, the summer season is over, but fall is drawing near. Your fall baseball season is a time of true development – a time that encourages trials and errors.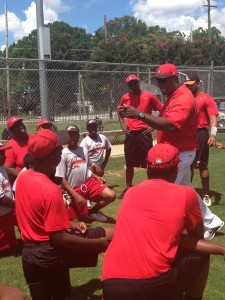 The truth is that you'll never reach meaningful goals as a hitter without failure. Development time requires that you begin with assessment, followed by goal setting, and ending with performance and more assessment as you head into your winter training.
It is obvious that good hitters want to get a lot of hits in a game. Since 1998, I have developed some of the best hitters at the high school, college and Major League level. The desired outcome is that "frozen rope," a line drive that you hit regardless of what pitch is thrown.
When a hitter is in a slump he is either swinging and missing at the pitch or popping up. That's why I train my hitters to hit hard ground balls up the middle. You can accidentally hit line drives by using a ground ball approach.
Good swings are directed down with your bottom hand, and extended outward and through the ball with your top hand. From there, you want some luck on your side. If you hit the top of the ball with a good swing, you get a hard ground ball. If you hit the middle of the ball, you get a line drive. And if you hit the bottom of the ball, you get gap shots with backspin.
If your swing is good, good things can happen any time you make contact.
Take this test – Let's assess your swing mechanics using a tee, your bat, a bucket of balls (50 baseballs requires) and two cones.
Step 1
Set up a cone 5 feet to each side of second base – with second base bag being in the middle of the cones.
Step 2
Set up your tee at home plate.
Step 3
Repeat your swing 50 times, hitting the ball off the tee with your desired outcome to hit the baseballs between the cones on the ground.
Ground balls hit up the middle of the field are an indicator you have a downward approach with outward extension. This is always a good thing, but often portrayed as bad in this home run era. Learn to hit first. Your power always shows up last.
For comparison's sake, a Major League hitter could hit the ball between the cones at least 40 out of 50 attempts; a college player at least 30 out of 50; a high school player at least 25 out of 50; and players ages 8 to 14 at least 20 out of 50 attempts.
Click here to connect with me on Twitter @atbats to let me know your results. After you have been assessed, we can set some goals for the fall season that will lead to lots of hits.
Remember: Good hitters don't work hard; they work smart.
For more information, visit www.diamonddirectors.com today.
BIO:
C.J. Stewart has built a reputation as one of the leading professional hitting instructors in the country. He is a former professional baseball player in the Chicago Cubs organization and has also served as an area scout for the Cincinnati Reds. As founder and CEO of Diamond Directors Player Development, CJ has more than 12 years of player development experience and has built an impressive list of clients, including some of the top young prospects in baseball today. If your desire is to change your game for the better, C.J Stewart has a proven system of development and track record of success that can work for you.