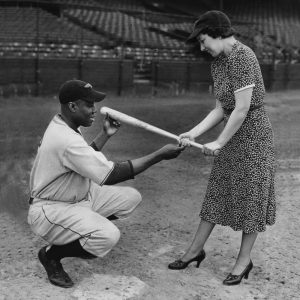 "People say, 'Don't live in the past.' But I guess it depends on how interesting your past is." — Effa Manley
Effa Louise Manley (March 27, 1897 – April 16, 1981) was an American sports executive. She co-owned the Newark Eagles baseball franchise in the Negro leagues with her husband, Abe Manley, from 1935 to 1948.
Throughout that time, she served as the team's business manager and fulfilled many of her husband's duties as treasurer. In 2006, she posthumously became the first—and, to date, only—woman inducted into the National Baseball Hall of Fame. She was chosen by the Special Committee on Negro Leagues for her work as an executive. (Wikipedia)
In my last blog, I talked about Monte Irvin, the Negro Leagues owners choice to become the first Black player to play in the Major Leagues in the modern era.
"Effa Manley was not a fan of Branch Rickey because she felt like Branch Rickey was trying to come in and raid the Negro Leagues of its talents without compensation," recalls Negro League Museum President, Bob Kendrick. (You can learn more about Manley and Irvin in Storied Chapter 2.)
In my opinion, our past is very important because success and failure leaves clues. When I fail, it is a cue to make adjustments. When I have success, I am reminded to focus on repeating that success, rather than burdening myself to be better.
February through April are the months my hitters focus on converting their habits to skills. In order to develop skills, they must practice under pressure.
Does your coach create an environment of pressure in your practices?
As you play games this season, it is wise to remember how you have overcome past failure and adversity. Just don't live in it.
To help keep your skills sharp, we have introduced a new type of Skill Build—our Virtual Skill Build—where I can help you develop hitting skills anytime, anywhere using anything.
Remember: Intelligence tops being smart.
For more information, visit www.diamonddirectors.com today. Also, check out our Digital Magazine.
C.J. Stewart has built a reputation as one of the leading professional hitting instructors in the country. He is a former professional baseball player in the Chicago Cubs organization and has also served as an associate scout for the Cincinnati Reds. As founder and CEO of Diamond Directors Player Development, C.J. has more than 22 years of player development experience and has built an impressive list of clients, including some of the top young prospects in baseball today. If your desire is to change your game for the better, C.J. Stewart has a proven system of development and a track record of success that can work for you.