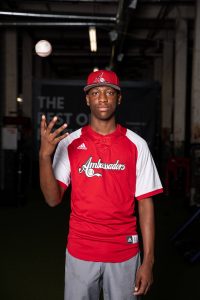 Consider the trillions of unfulfilled goals made each year. A goal is something to be accomplished. In order for your goals to be accomplished and sustained, I believe you must make a conscious effort to fulfil them. To do that, you must:
Be clear and specific
Be a benefit to others and not just for yourself
Be fueled by passion and grit
I have achieved a lot of success in my lifetime and remain committed to using my success to serve others. One of those young men is Elijah Grant, a rising senior at New Schools at Carver in Atlanta. Elijah also is a L.E.A.D. Ambassador.
As the Chief Visionary Officer for LEAD, my job is to help young leaders like Elijah win at the game of life by becoming Major League Citizens. Over the years, I've watched Elijah mature. He has also taught me a lot, which is an important part of the process.
I recently sat down with him to get his insights on the road ahead:
What is your specific short-term—one- to three-year goal—for baseball?
My specific short-term goal is to have at-least a .300 batting average over the next year and strike out less than 25 times.
The Latin word for passion means suffering. Using at least 30 words in a sentence, explain how your past suffering will help you achieve your specific short-term baseball goal?
My past suffering will help me achieve my goal because I want to be successful so that my family won't have to worry about certain things. I can take care of them.
Grit is the relentless pursuit of purpose. Using at least 30 words in a sentence, explain how what keeps you motivated on and off the baseball field?
The thing that motivates me on the field is my family being happy seeing me do the thing I love the most, which is playing baseball. They support me all the way.
What is your favorite hitting drill?
The Hop Drill.
To help keep your skills sharp, we have introduced a new type of Skill Build—our Virtual Skill Build—where I can help you develop hitting skills anytime, anywhere using anything. Check it out.
Remember: Intelligence tops being smart.
For more information, visit www.diamonddirectors.com today. Also, check out our Digital Magazine.
C.J. Stewart has built a reputation as one of the leading professional hitting instructors in the country. He is a former professional baseball player in the Chicago Cubs organization and has also served as an associate scout for the Cincinnati Reds. As founder and CEO of Diamond Directors Player Development, C.J. has more than 22 years of player development experience and has built an impressive list of clients, including some of the top young prospects in baseball today. If your desire is to change your game for the better, C.J. Stewart has a proven system of development and a track record of success that can work for you.